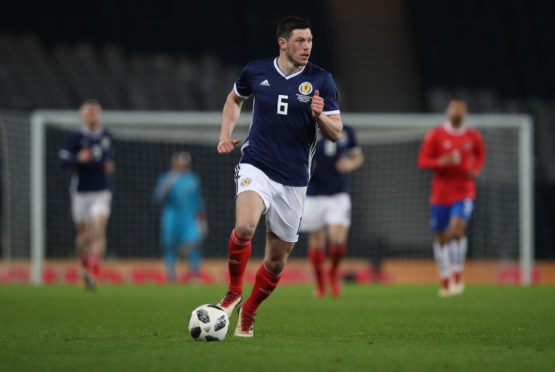 Aberdeen manager Derek McInnes believes Scott McKenna's willingness to put his football education above his bank balance will pay off in the future.
The Dons rejected a seven-figure offer from Hull City for their central defender who made a major impact after breaking into the first team at Pittodrie last season.
McKenna's meteoric rise has led to him establishing himself in the Scotland national team and he captained his country in the international friendly against Mexico earlier this month.
The Dons boss knows McKenna is a player in-demand but he is pleased to see the 21-year-old take his advice and focus on improving and gaining experience before moving on.
He said: "He's done fantastically well. But I'm not sitting worrying about the phone ringing and losing McKenna. I'm confident that he will go at some point, but it doesn't need to be now.
"We're looking forward to working with him a lot longer and you can see it clear as day that the boy is going to move on at some point. We all know that.
"I know that Scott will be on the radar of a lot more clubs than he was six months ago, due to the fact of how well he's done for but also the fact how well he's done for Scotland.
"That opens up another level of club when he plays so well for his country. The perception from a lot of people down south is that they'll be judging him on those games, rather than what he does domestically."
The Dons boss believes McKenna's willingness to put experience first will benefit him more in the long haul.
He said: A lot of youngsters are quick to jump at the first thing. I understand that as a player. But the player that really backs himself, the confident player, knows it will come anyway.
"It's better to back yourself and there will be far bigger clubs and better opportunities ahead if you keep doing what you do, learn the trade, and do your job.
"I think that the really confident player, the smart player, recognises that. The ones who maybe don't back themselves so much get a bit excited at the first opportunity and look to get down. Sometimes it works, sometimes it doesn't.
"We'll work with Scott to get the right move for him in time but we're not actively trying to sell him. A lot of clubs are good at trying to sell their players but thankfully we're not good at selling them.
"I like the fact that we try and get as much as we can out of our players on the pitch, but also recognise that if Scott continues to improve and do as well as he's done, there will come a point when he will move."