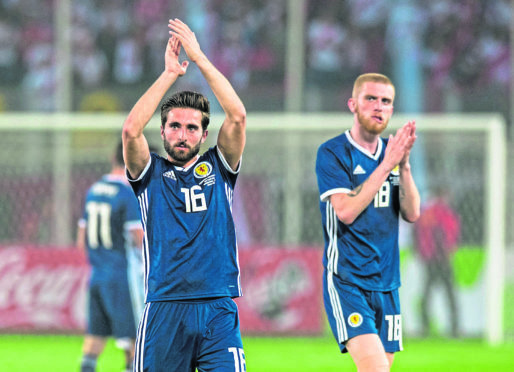 It has been a summer that Aberdeen captain Graeme Shinnie won't forget.
The 26-year-old finally won his first Scotland caps against Peru and Mexico during the national team's trip end of season trip to South America before tying the knot with partner Jodie.
Shinnie is back training with the Dons squad in Cork and admits he hasn't had much time to relax since the end of the 2017-18 campaign.
He said: "It was definitely a summer to remember for me. It is a weight off the shoulders to get that first Scotland cap.
"It feels like it has been a long time coming.
"It is something I have worked really hard towards so it was great to finally get it.
"The experience of being in South America, at the Azteca, and everything else that came with the trip is something I will never forget.
"Then I came home and got married so it has been some summer.
"I had a week away in Mallorca and now I am back at it.
"It has been a whirlwind summer but one that I wanted.
"I have worked so hard for the Scotland cap.
"I have taken a few knock-backs since starting to go away with the Scotland squad.
"I have had to wait for a cap so to get two was massive."
Shinnie, meanwhile, has been perplexed by the reaction to the booking he received on the final day of the season for a challenge on Celtic captain Scott Brown.
The tackle sparked a war of words between the players with Shinnie saying "what goes around comes around", while the Hoops skipper claimed the former Caley Jags player tackles "like a little boy" and is a player who "has not got great quality".
The Dons captain said:  "Last season is done. It has dragged on so much.
"I can't believe how much hype it has had.
"It was one bad tackle.
"I had 19 bookings last year but that one seems to be standing out the worst which I can't get my head around.
"There was a big deal made of it.
"Even when I was away with Scotland I was getting asked about it.
"It is something I am not bothered about.
"When the games (against Celtic) come around I will deal with it.
"We have got bigger games before then that I need to focus on.
"We've got Burnley coming up in the Europa League which is a game we are all excited about.
"It is a tough tie but we know exactly what they are.
"Sometimes you get a foreign team and people don't know much about them but expect you to win.
"We saw how good Burnley are last season.
"It is a tough game but one we are all looking forward to."