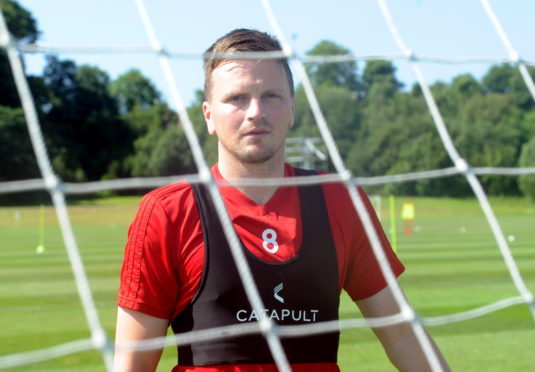 Stephen Gleeson is determined to make his time at Aberdeen a profitable one as he targets silverware in Scottish football with the Dons.
The midfielder, who joined the Dons after his contract with Ipswich Town expired, is ready for a new challenge in Scotland after spending his career in English football.
Gleeson has endured the forlorn challenge of competing in the Championship in England and wants to end his career with medals to show for his efforts and believes he can achieve his aim with the Dons.
He said: "Playing in the Championship you are either promoted or nothing as you are not going to win the FA Cup or the League Cup unless you are in the Premier League.
"Up in Scotland there is an actual chance that you can win a cup with a club like Aberdeen. That is something that I am looking forward to and it is a massive test at this stage in my career.
"In the Championship there are 15 teams looking to win promotion and the rest are just looking to survive."
Celtic remain the dominant force in Scottish football but Gleeson believes cup glory is not beyond Aberdeen and believes the Dons can offer him the chance of adding to the medals he already has in his collection.
The 29-year-old, who impressed in his debut in Saturday's 1-0 win against Cobh Ramblers, said: "The money in the Premier League is so ridiculous and it has become so elite.
"The Championship side's money is also incredible and you just need to look at Wolves last season and now Stoke City. They can spend £10 million on players and in the EPL 10 years ago that would have been considered big money.
"It is one of the things that made me come up here as I have a really good chance of lifting silverware and winning a medal. I have won two-play-off medals in my career and that is it.
"When I finish my career I want to be able to say to my kids and grandkids this is what I won and this is what I have done. There is a great opportunity to do that in Scotland."
Rangers will be Gleeson's first competitive game in the Premiership but before they visit Pittodrie on the opening weekend, Gleeson hopes to be celebrating taking Burnley's scalp in the Europa League.
He said: "We beat Celtic on the last day of the season – so why can't we beat Burnley over two legs? This is a very ambitious club and I did not know how big they were until I looked into them.
"A lot of people outside of Scotland do not realise how big Aberdeen actually are. They are a massive club. Why can't we go out and beat a Burnley team who are in the English Premier League?
"A few years ago they were in the Championship."