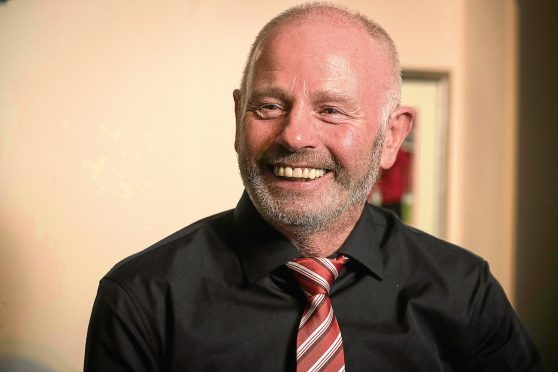 Aberdeen chairman Stewart Milne is adamant Scottish football deserves a better tele-vision deal and hopes one broadcaster will take sole control.
The current agreement runs out in 2020 and stands at £18.95million per season but Milne points to the improvements in the Scottish game as meriting a bigger investment.
Derek McInnes's side has finished second in the last four seasons, while Hearts and Hibs have strengthened upon returning to the top flight. Add to that the arrival of Steven Gerrard at Rangers and a more profitable outcome could be on the table.
BT Sport and Sky Sports share coverage of the SPFL, with BBC Alba also screening games as-live on Saturday evenings. Milne would like one overarching broadcaster and would be disappointed if the SPFL only received a marginal increase in funding.
He said: "I am convinced we'll have a better broadcast deal next time round. I'd be disappointed if it's just an incremental improvement on what we've got. We have to work hard to get a multiple of what we already have. All the clubs have a part to play and everyone is working in the background to ensure we maximise our prospects of getting a good deal this time.
"In the last few seasons we have given Scottish football a great platform to go to the broadcasters with. It's important to get the right sort of deal with a long-term partner so we can have a clear plan and map out what we want to do over a five to eight-year period. We need someone to help us grow the game in Scotland and create far better value. I can see loads of benefits coming from just having one partner because it's in their interests to make it stronger.
"It's an exciting time for Scottish football and I honestly feel that last season was the best for a long time. I think this season will continue that, it will be more competitive."
The increased level of competition in the top flight led many to claim the Dons' second-place finish was the best of McInnes's tenure. They ended the season nine points behind champions Celtic and the challenge for Milne is to provide McInnes with the resources to close that gap.
He said: "Hopefully within that, the likes of ourselves, Hearts, Hibs and Rangers can keep Celtic within touching distance. From an Aberdeen point of view, we haven't had a period since Sir Alex Ferguson left where we have delivered five second places in a row.
"But that's how close we've been and that is testament to Derek, Tony and their backroom team.
"The players have done really well and we still have a core of those players at the club. It will be tougher again this year.
" The league is getting stronger and we have been growing our budget every year.
"We have done various things to help us generate additional cash, like the Granite Club for example. This year we have the DNA membership scheme up and running, and the bulk of that additional cash will be going into the playing budget.
"We know it's going to be a very challenging league. Rangers are upping their game, Hearts have brought in a lot of new players and I have no doubt that once Hibs get up and running they will bring in a few as well. It's going to be another very competitive league this season."