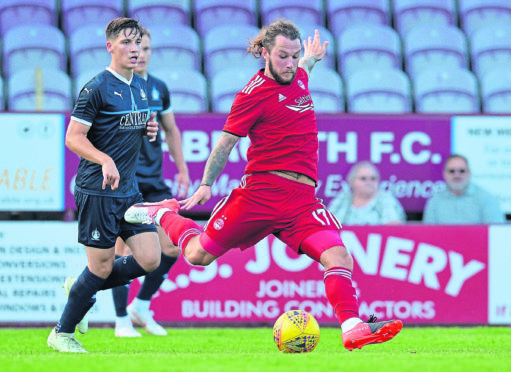 Stevie May insists he is settled and ready to get to work at Aberdeen.
It has been a busy summer for the Dons striker after getting married and the settled feeling extends to on the pitch, too, following his move to Pittodrie from Preston North End last year.
May is content and ready to show the form which enticed the Dons into paying £400,000 for his services last August.
He said: "I have a long contract here and I am settled and ready to get to work.
"I got married over the summer to Ceianne but not much has changed in terms of my home life.
"I have been living with my missus for a while now. But we do have a couple of dogs now as well – Buster and Betsy.
"This is as settled as I have felt in a while, coming back and being closer to family and friends. It is easier to do that than down south where you can go months without seeing people."
May opened his account for the season when he scored Aberdeen's first goal in Sunday's 2-2 draw at St Johnstone.
It was a timely reminder of the qualities he possesses when manager Derek McInnes is in the market for another striker and May is ready to show he is deserving of the leading role in the Dons attack.
He said: "We have lost a few players so the squad will need to be built up.
"We can see the ones who we have brought in have done really well. There is a lot of exciting talent come in and I'm sure there will be more new faces.
"We start against Burnley and Rangers and those are games you want to be involved in.
"There is even more incentive for people to give everything they have got in terms of being in the line-up that faces Burnley and go from there, just keeping yourself in the team.
"It was good to get on the scoresheet but my main aim for pre-season is getting minutes and staying healthy.
"I don't think anyone would say no to more goals.
"I haven't set myself targets. I am just going into every game trying to score.
"That's what I have always done and hopefully a few more can go in this season.
"I have done a good bit of work over the summer. All our tests are up from last season.
"The main thing is getting everyone fit and ready to go in that first game."
Meanwhile, Aberdeen confirmed yesterday that they have sold out their allocation of 2,400 tickets for their Europa League away tie against Burnley on August 2.