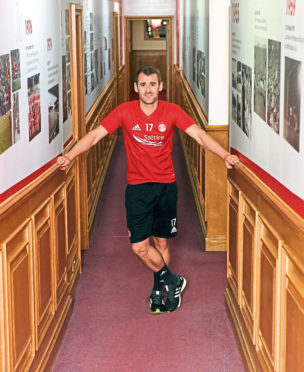 Dons winger Niall McGinn believes landing a big Euro test against English Premier League outfit Burnley can bring out the best in Aberdeen.
There is no time for the Dons to ease themselves into the new season – with a Europa League second qualifying round against the Lancashire side on Thursday, July 26 followed by a Premiership opener against Steven Gerrard's Rangers on Saturday, August 4 – both at Pittodrie.
McGinn knows Burnley will be a huge test for the Dons but he believes the experience gained from recent European campaigns will ensure the Reds are well-prepared for the all-British tie.
He said: "It's very interesting, but it's very exciting for us.
"I don't think we've met as good a team as Burnley in the early stages of the Europa League. But no matter who you get, you're in for a difficult game. To succeed in these early rounds you have to beat these good teams.
"There's probably no tougher game than Burnley. They'll see us as a hard game as well and it's about us trying to cause an upset. A side like Burnley, who have finished seventh in the Premier League, are physically strong and work hard together. They take their chances when they come along and they've proved that in the last couple of years with how successful they've been under their manager Sean Dyche.
"It's about us getting off to a strong start at home and we've just got to use the experience we have – of Groningen, of Rijeka, of Sociedad – and use the highs and lows of any Europa League campaign to our advantage."
Burnley is the opening test of what is a high-profile opening to the new campaign, with Rangers immediately following the double-header against the Lancashire team.
McGinn knows the spotlight is going to be firmly on Gerrard when he brings his Light Blues to the north-east
McGinn said: "We're going straight into the mix this season and it is an exciting start. It'll be Steve Gerrard's first league game and it's going to be a great atmosphere at Pittodrie, which there always is for a Rangers or Celtic game.
"But with Gerrard coming in, with it being the first game of the season, there is an extra spice.
"It's going to be a very good start to the season.
"He'll know what to expect. He'll have seen a few games but all the hype is going to be around Rangers. It's just down to us go under the radar and just come out and give a good account of ourselves.
"We're at home, we'll be backed by our own fans and we've just got to make sure they're in for a difficult game. We've got to try to cause an upset, as you would say, because we're never the favourites. We're at home and we know on our day we're capable of beating any team."