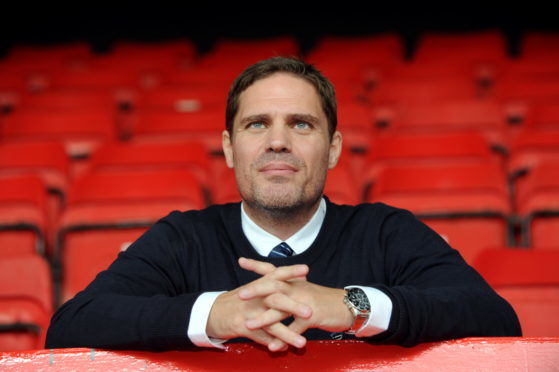 Ally Begg has never been interested in pursuing a conventional path to success.
But the north-east man, who once performed in hit band Bad Boys Inc and is now a prolific TV sports producer in Qatar, remains as much in love with Aberdeen FC as when he was growing up in the 1980s.
His latest venture is launching a blog, which will go live later this week. And he talked to The Press and Journal about his thoughts on a variety of subjects, when we hooked up last week.
First things first, and we chatted about the Dons' move to the new Kingsford stadium; a project which has elicited strong views on both sides of the divide.
EXCLUSIVE: No Kingsford Stadium group officially lodge legal challenge
True to type, Ally didn't sit on the fence.
Instead, he said: "I have always been pro-Kingsford. I think a new stadium with state-of-the-art facilities is an absolute must for the club to move forward.
"I appreciate and respect that there has been a divided opinion amongst the fans, but Pittodrie is now getting tired and in a desperate state of repair.
"You just need to listen to Derek McInnes to appreciate how important this is for the sake of the football department to have proper training facilities, not just for the first team but the younger generations coming through the ranks.
"I also believe it will serve as a great means of attracting potential new players to the club which of course will only enhance the playing staff.
"I just hope the club will explore all means of making the fan experience on match-days the best it can possibly be, I think we need to look at European models and follow their examples to attract as many people as possible to the games."
Despite that, Ally still has a plethora of memories of attending Pittodrie. Some were good, a few were bad, but none of them left him feeling indifferent.
He said: "Pittodrie for many years was almost my second home; in the early to mid-eighties, my family and I hardly missed a game.
"I lived for my weekends. I have so many memories from that place it might actually prove to be difficult to let go once the club does finally move base.
"I will never forget my first game back in 1981 despite losing 2-0 to Kilmarnock – I was hooked from that moment!
"The Bayern Munich game in the quarter-finals of the 1983 European Cup-Winners Cup is undoubtedly the best game I've ever seen at Pittodrie. I remember it like yesterday.
"To be honest, I don't have too many bad memories, the scariest was trying to get out the stadium when the game against St Johnstone was abandoned at half-time due to the biblical snow storm that hit the North East back in 1984.
"My worst moment which should have actually been my best moment was in 1993 when Bad Boys Inc had just finished performing the Radio 1 roadshow over on the links and a newspaper asked me if I would like to head over to Pittodrie to meet Willie Miller and have a kick-about with him on the park.
"So there I was, standing in the middle of the pitch with my childhood hero having some photographs taken, not quite believing what was happening!
"Willie pinged me the ball, I was able to trap it quite comfortably then all I was thinking was nail the pass back, try and show him I could play a bit and I ended up almost knocking it 20 yards past him. I was gutted!"
Ally relished the recent World Cup, and enjoyed some of the marvellous contests, but he remains sceptical about VAR and its influence on the sport.
Aberdeen bring in the drones as Dons boss Derek McInnes lauds video analysis benefits
He added: "Honestly, VAR still needs much work. I have seen examples where it does work, but times when it's quite obvious it does not.
"I still need to be convinced that the control room is showing the referee all angles available from the TV cameras, so they can make their judgments from that.
"I have seen a couple of incidents where they have only watched a couple of angles and not the ones which conclusively show the incident.
"We need to keep the game simple and, by introducing captain's challenges for example, that just confuses matters and slows down the whole process."
His new blog will be at allybegg.com, so what can we expect from this maverick character, whose book "Begg to Differ" had a foreword by none other than Sir Alex Ferguson?
He said: "It was my wife Miriam that convinced me to do it. She follows a couple of bloggers through her work and offered the idea one quiet evening once the kids had gone to bed.
"I think I'm in an extremely fortunate position to know people in the game through my job and there are always stories to be told, so I thought I may as well give it a bash.
"I have always enjoyed writing and telling stories, so I'm hopeful through my blog I can rekindle memories and get a few interesting tales out there.
Aberdeen boss Derek McInnes to make decision on Krystian Nowak ahead of Burnley tie
"The site has been designed by a friend of mine and we are currently adding the final touches in preparation for the launch to coincide with Aberdeen's first game of the season against Burnley on July 26.
"I have already interviewed a host of ex-players to feature across the page, two for the actual blog itself and one or two for my 'That Goal' section which is where I talk to ex-players about a particular goal they are well known for.
"I suppose the page is just a natural follow on from my book, but as an online version."