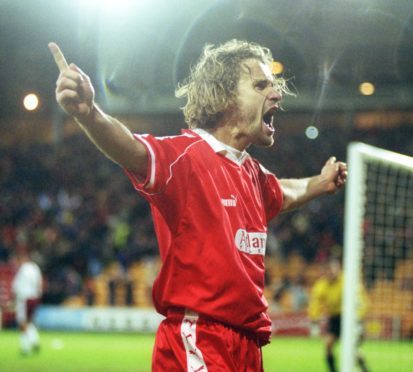 Fate dealt Aberdeen a cruel hand on May 27, 2000. It came in the form of Rod Wallace's knee.
The Rangers striker caught Dons goalkeeper Jim Leighton flush in the jaw just three minutes into the game. It was the blow that ended Leighton's career and hit Aberdeen for six.
With no goalkeeper on the bench and only three substitutes permitted, striker Robbie Winters donned the jersey.
"Robbie was a great striker, but certainly not a goalkeeper," recalls Arild Stavrum, who started up front for the Dons.
"I was furious that Jim had got injured. I remember being so angry, I went straight up the other end and tried to score.
"Both teams gambled on not having a goalkeeper on the bench but you shouldn't lose games on things like that. They changed the rules afterwards to stop it happening again."
Winters entered the fray in the bizarre scenario of donning reserve goalkeeper Ryan Esson's shirt and gloves. He held Rangers at bay until the 36th minute, when Giovanni van Bronckhorst opened the scoring, before three quick goals at the start of the second half killed off the Dons.
"We had beaten them earlier in the season, so it was possible. We needed to have a top day, where everyone performed.
"It's special to get to a cup final and while it was a disappointing result, it's better to have played at Hampden Park than not.
"I really enjoyed those games. I don't miss all the training but I miss those big moments the most."
They had lost one cup final already that season – a 2-0 defeat to Celtic in the League Cup, a game in which they had Thomas Solberg sent off.
There was more than a Scandinavian tinge to the Dons of that era. Under Ebbe Skovdahl, a Dane, Stavrum, Solberg and Cato Guntveit were recruited from Norway.
His stay in Aberdeen lasted for only two seasons before he moved to Besiktas. The 46-year-old finished his career in 2004 after returning home to play for Norwegian side Molde.
Stavrum's current pursuits reminded him of his time working under Skovdahl. A published author, Stavrum's latest book, a biography of Danish national team manager Age Hareide, brought back memories of working under both men.
"Age started as a player and coach at a small team in Norway and ended up as the national coach of Denmark. It's a big deal, as most Danes think Norwegians know nothing about football.
"What he did with me and many others was put us in positions and roles where we could play well. I had my strengths as a player and needed to use them, otherwise I was useless.
"I played under Age in Sweden before he went to take over Ebbe at Brondby. Ebbe then brought me to Aberdeen, which was a complete coincidence.
"I loved working with Ebbe. He had a similar mentality to Age; he was very tough and straight-forward. He said things as they were."
He pinpoints Christian Eriksen as one of his most enlightening interviewees, with the Tottenham man revitalised as the talisman of the national team under Hareide.
Stavrum's spare time is scarce. When he is not writing, he teaches at a local sports academy and also coaches son's football team.
There are no plans for a bestseller about his time in the Granite City just yet, with Oslo-based Stavrum keen to write more crime fiction novels.
"This is my seventh book. Three of them are children's books, two of them are novels, one is a documentary and the other is a biography.
"Writing has always been there from an early age. I wrote for some newspapers in Norway and Scotland and thought I'd try writing a novel. I really enjoyed it."
Stavrum was in Scotland four years ago to promote his crime novel Exposed At The Back, which he hopes will not be a prophetic title for the Dons' Betfred Cup semi-final against Rangers on Sunday.
Aberdeen have beaten Rangers to second in the last two league seasons and made domestic cup finals, however their sole piece of silverware in that time remains the 2014 League Cup.
It is the first time since the 4-0 final that the two sides have met at Hampden Park and they are arguably better-matched than they were 18 years ago.
"It's a natural development in Scotland because Old Firm clubs have been so much bigger than other teams. The product of that you see everywhere, with big teams just going past the smaller clubs.
"Aberdeen have turned it around and are a lot closer again. It's really impressive. It's quite possible that they will win trophies, this season and next.
"I wish them all the best on Sunday. Aberdeen has a special place in my heart."