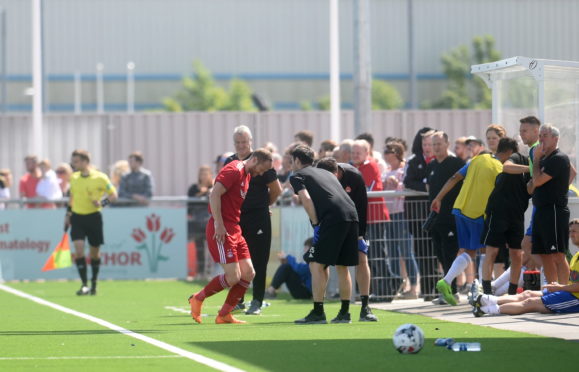 Mark Reynolds still feels he has a role to play at Aberdeen as he comes back from a cruciate ligament injury in the final year of his contract.
Sidelined since a pre-season friendly at Cove Rangers in July, Reynolds hopes to return to training for the winter training camp in Dubai in January and play his part in Dons' success this season.
Reynolds' deal is up at the end of the campaign and his preference would be to extend his near-seven-year stay at Pittodrie. He had two loan spells with the Dons from Sheffield Wednesday, before penning a permanent deal in 2013.
Being out of action in a crucial season is far from ideal for Reynolds but he remains hopeful he can work his way back into the team.
He said: "I feel I've still got a big part to play. Last year was the first year I didn't really play the majority of the games but I still played a lot of big games. I played three or four of the top-six games and I played at Parkhead when we beat Celtic on the last day of the season to clinch second.
"I'm one of the older boys in the changing room and I feel I've got experience to pass on to younger boys. I've still got an influence in the changing room and I feel as though I can influence things on the park as well.
"My contract doesn't really come into my thinking. I can't really influence it – I've been injured, which isn't ideal. I've still got six months left, so I'll come back and keep doing what I'm doing, then see what the manager says. It's not something I can influence by worrying about it. All I can do is go out and play when I'm given the opportunity. That's what I'll continue to do.
"I've never hidden my desire to stay here. I've really enjoyed playing here and if that opportunity is made available, I'll be delighted. Football is a funny game and you never know what's around the corner. All I can influence is rehabbing my knee, getting back as fit as I can, playing as well as I can when given the opportunity and see where that takes me."
The injury, suffered in the abandoned friendly that marked the opening of Cove's new Balmoral Stadium, has been worse than Reynolds expected.
He said: "I didn't expect it would be this bad. When it happened at the time the physios had an inkling because of the mechanisms. At the time it was agony but then it eased right off, I went back on the pitch and tried it and it just felt a bit stiff. I spoke to the physios and the manager and they said it was a friendly on artificial surface so there was no point in risking it.
"There was no bleeding in it, no bruising, it just felt stiff and then I went and got the scan and it came back that I'd ruptured the cruciate. Luckily I went to see a surgeon in Glasgow, Gordon Mackay, the next week. I saw him on the Monday and he operated on the Wednesday. I've been all systems go since then but I never expected it to be a six month job."