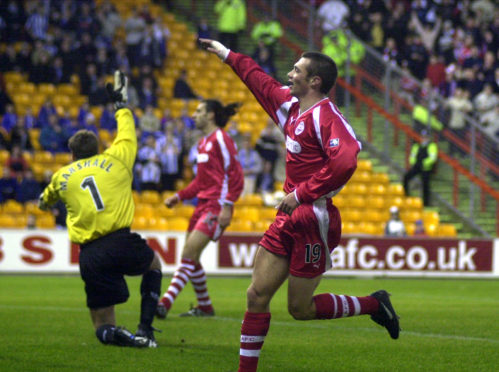 It was more of a crimson generation than a golden one.
A talented group of young players who had elected for the northern lights of Aberdeen and a pathway to first-team football rather than be lost in the mire of foreign recruits swarming towards the central belt.
Aberdeen's youth teams of the 1990s provided a conveyor-belt of burgeoning prospects that fed the senior squad. Eoin Jess and then Stephen Glass were the spearheads, with Chris Clark, Ryan Esson, Kevin McNaughton, Russell Anderson and Darren Mackie following in their footsteps.
Darren Young was part of that fledgling squad which, on reflection, he wishes had delivered more.
Darren said: "Everyone was spending money then, even Hearts. We had a great bunch of young lads coming through and we probably felt we could have done a bit more. Alongside myself there was Michael Hart, Chris Clark, Ryan Esson and Russell Anderson, who I came through with at the same time.
"There was also Zander Diamond, Phil Maguire, Kevin McNaughton, Darren Mackie – a right good core of seven or eight young boys that came through the reserves to the first team. Robbie Winters and Jamie McAllister were signed but they were young Scottish lads with a good attitude.
"That core of boys did really well in the game and had a great starting point. Boys maybe had other options, like Rangers and Celtic, but because we saw the likes of Eoin Jess, Scott Booth, Stephen Wright and Stephen Glass coming through, we saw Aberdeen were giving youth a chance. It was an easy decision.
"The others were spending big money on foreign players but, at Aberdeen, you had the chance to play every week.
"We had Stephen to look up to, as he was a couple of years older, and David Rowson breaking into the first team.
"I had been there since I was 10. I was taken up in October, at Christmas and Easter. You got picked up from your digs on a minibus on the morning and that was you for the full week.
"You'd be out to Seaton Park and as a young kid, training a couple of pitches away from the first team. It was great. We were only 50 yards from the big boys.
"If you did well, you could progress. There's a goal to go and do well. There was only about 15 of us from all age levels and everyone trained together. Once you get older, boys get called into the youth team or on the bench. That was your induction.
"I had been captain from the age of 10, from my boys' club and all the way through. I put responsibility on myself."
Injury denied Darren, who played alongside his brother Derek for the Dons, the chance to appear in the cup finals of 2000.
Both were defeats by Celtic, Aberdeen's nemesis when it comes to finals. When he left Pittodrie in 2003 for Dunfermline, Darren could not shake the spectre of those green-and-white hoops.
The Pars reached the Scottish Cup final in 2004 and 2007, while also making the League Cup showpiece in 2006 – under three different managers.
On all three occasions they came up against the Hoops, without getting their moment in the sun.
Darren added: "When I left to go to Dunfermline, I got to four cup finals in five years.
"While it was disappointing not to play in any with Aberdeen, I did manage to get to cup finals on my own. I was man of the match in one of them.
"We got to two cup finals in 2000. In one of them Robbie Winters went in goal when Jim Leighton got injured – but I was injured for both.
"I got fit near the end of the season but I knew I wasn't going to jump back into the team.
"Looking back at the squad we had and the players that were playing for Rangers and Celtic – you had legendary names like Paul Gascoigne, Brian Laudrup, Henrik Larsson, Chris Sutton.
"Those teams compared to now are night and day. Celtic are not bad just now but compared to the Celtic team we played 15-20 years ago, well, there really is no comparison."