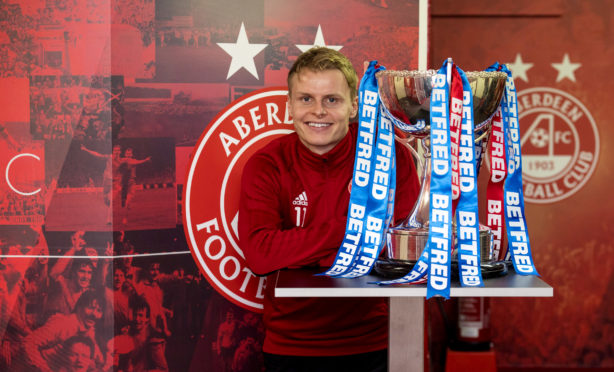 Gary Mackay-Steven believes Aberdeen can end Celtic's domestic dominance under Brendan Rodgers on Sunday.
The Hoops have swept all before them since Rodgers arrived in Scotland, completing a clean sweep of six trophies in two seasons under the Northern Irishman.
Aberdeen have been second-best in four of the six competitions Rodgers has managed in but the unbroken run of success must end at some point and with the Dons once again pitted against the Hoops with a trophy on the line Mackay-Steven sees no reason why it cannot be Sunday's Betfred Cup final at Hampden.
He said: "Celtic have been so successful the past few years. We are under no illusions. It will be hard but it will be important in a lot of ways to have another team winning a trophy.
"Sunday is a big chance for us to have a crack at it and we will be looking to do the job. A cup final is about big moments and who takes their chances. It can come down to fine details. We need to make sure we are ready for it and take our chances when they come.
'But when I look around the dressing room I see match winners and that gives us confidence.
"The semi-final against Rangers, young Lewis Ferguson stepped up with a big moment. It's the first season he's played in really big games and he's shown he's capable of stepping up to the plate.
"If you look around the dressing room there are other players with big moments in them too. Hopefully these players have big moments on Sunday."
Mackay-Steven, who said there is no update on contract discussions with the club, was on the bench when the Hoops beat the Dons to win the League Cup in 2016, the first trophy of the Rodgers era, insists he has nothing to prove to the Hoops after failing to establish himself in the Celtic squad following his move from Dundee United in 2015.
The 28 year-old said: "I don't see it as a motivation. I've just got a big motivation to win trophies at Aberdeen. It just so happens that it's Celtic in the final.
"You want to play against the best teams and Celtic have shown in recent years that they have been the best team. So it will be a good test for us. That's all the motivation we really need.
"It's about the future and looking ahead and Sunday is going to be a big occasion for me and for the club. It's about taking that opportunity because they don't come around often.
'I've seen the scenes in Aberdeen last time they won the League Cup and it was massive. I've seen the pictures and there were thousands of fans. This is a one-club city and there's a huge support base up here. It would mean a lot to a lot of people and hopefully we can deliver a trophy for them."
On contract talks the winger added: 'It's just the same. I'm taking it game by game. I'm quite relaxed about it. I've not thought about it that much since the summer. I've just been focusing on my health and keeping fit and that's what I will be continuing to do."