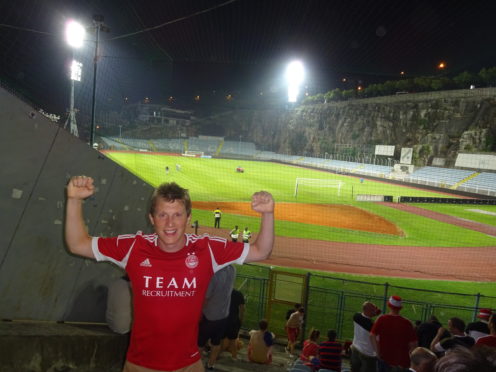 A summer joke has become a reality for Dons fan Kiefer Gordon as he makes the trip from Melbourne to watch his beloved Aberdeen take on Celtic in the Betfred Cup final on Sunday.
The 29-year-old, son of broadcaster and Press and Journal columnist Richard Gordon, arrives in Scotland today from Australia to join his friend Stuart Scott in cheering on Derek McInnes's side against the Hoops at Hampden.
Gordon, who lives Down Under with his wife Radka, said: "My wife and I moved out here a year ago. We had lived in London for five years previously and had basically become fed-up of it all, particularly the weather in the UK, and we thought if we're moving let's move as far away as possible.
"I'm an account manager for Cadbury and I was fortunate to be able to get another job within the company and relocate to Australia.
"I arrive Friday morning and leave on Monday. My wife and I were back over for a wedding in July and our total time off was a week which included two days of travelling. I joked then that as I'd manage to handle the jetlag I think I could manage to come back if Aberdeen got to a final.
"I didn't give a second's thought that it would little more than four months later."
Despite honouring his promise to come back to see the Dons in a cup final Gordon will not be joined by his wife in making the trip back to Scotland.
He said: "As much as I've tried to convert my wife she is not a dyed in the wool Dons fan just yet so I'll be making the trip over on my own to Glasgow. I went to university in Glasgow and Stuart and I used to watch all the Aberdeen away games in the area as there weren't too many Dons fans down there and I'm going to go to the final with him.
"When we won at Parkhead in 2014 it was my first proper experience of seeing my team win a trophy as I was only six when we won the League Cup in 1995.
"I know the long term pain of missing out on the final would be far worse than the short term pain of paying for a flight over to Scotland."
Watching the Dons at Hampden has become a regular occurrence for Gordon and his pal although not every experience has been a happy one.
He said: "Stuart and I were at the Scottish Cup final when Queen of the South beat Aberdeen 4-3 and there's a famous photo of the two of us at full-time looking dejected at it all and every time the Dons lose a big game it seems as if that photo comes out.
"I won't be near my dad as I don't think I'd be able to sit there on my best behaviour while he's working. I want to scream and shout for my team so I'll take my seat with the Red Army and enjoy the game from there."
The Dons will be underdogs against the Hoops, who have won all six domestic trophies since Brendan Rodgers arrived at the club but Gordon believes his club can cause an upset in the final if they show the same spirit which overcame Rangers in the semi-final.
He said: "At the time when I decided to come I wasn't optimistic and people said to me 'if you don't think you are going to win then why are you going?' but I don't think folk out here look at football the same as we do in Scotland.
"We can't beat Celtic by opening up and taking the game to them. We have to play the game as we did when we beat Rangers in the semi-final by defending well, staying in the game and taking our chance when it comes and defensively we have looked strong so I feel more hopeful of seeing the team win the cup again.
"I know come the day of the game I will wake up believing we can win and I'd much rather do that in Glasgow than in Melbourne which is why I'm going to the game."