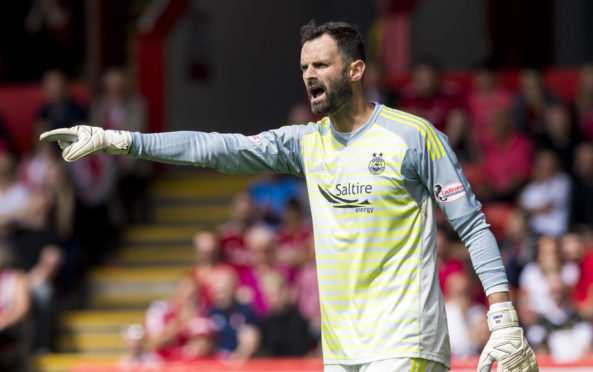 Aberdeen goalkeeper Joe Lewis does not care whether it is an ugly one or a classic as long as the Dons lift the Scottish League Cup tomorrow.
Aberdeen head to Hampden hoping it is a case of third time lucky against Celtic after losing both domestic finals to Brendan Rodgers's Hoops in the 2016-17 season.
Lewis has been an important factor in Aberdeen reaching this weekend's final after helping his club win the penalty shoot-out at Hibernian in the quarter-final and he heads back to the National Stadium having not conceded a goal in the competition.
He would love to protect that proud record by going the entire tournament without conceding, as Jamie Langfield did for the club in the 2014 cup winning campaign, but would happily give it up if it means he collects a winners' medal of his own tomorrow.
The Dons goalkeeper said: "It would be great to win the cup without losing a goal because goalkeepers pride themselves on clean sheets.
"But if we win 6-5, then I will still be happy – as long as we win. If we win 1-0 that would be great, 3-0 would be better right enough.
"You can have great games and still lose a goal. Clean sheets sometimes don't mean great performances, but it is something that people judge keepers on rightly or wrongly.
"It would be nice a record to have, going through the competition without losing a goal and it is something that would be talked about for years to come. However the win comes, I will take it."
Lewis has two runners-up medals to show for his previous cup final appearances with Aberdeen and he hopes it is a case of third time lucky as the Dons bid to end Celtic's monopoly on domestic silverware under Rodgers.
The Hoops have won back-to-back trebles under their manager and Lewis would love to end that run.
He said: "Losing against Celtic two years ago was a massive disappointment. It doesn't matter who you lose to, it is always a blow.
"Celtic are playing well right now but we have to focus on ourselves. We have beaten them before and believe we can do it again.
"We have areas in the team where we know we can hurt them and win the game. We have to make sure we play to our strengths and exploit their weaknesses."