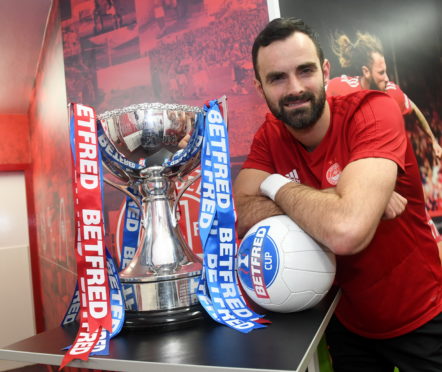 Former Aberdeen stopper Bryan Gunn has backed Joe Lewis to be the Dons' match-winner this afternoon.
Gunn worked with Lewis during his formative years at Norwich City and still keeps a keen eye on the former under-21 goalkeeper's career.
Lewis is an avid Canaries fan and watched Gunn between the posts as a youngster. The two were in contact following Lewis' move to Pittodrie two years ago, following in the footsteps of Thurso-born Gunn who was back-up to Jim Leighton during Sir Alex Ferguson's successful spell in charge during the 1980s.
The Dons came through their quarter-final tie against Hibernian on penalties, with Lewis coming to the fore, and he will be needed to do so again today if they are to triumph over Celtic.
Gunn said: "Joe is someone who has always been a big presence. He's a really technical goalkeeper as well and does this things well; he fits the profile of a modern goalkeeper. But the goalkeeper's main job is to keep the ball out of the net and Joe will be big on Sunday. He'll be getting a lot of well-wishes from myself and Norwich City fans. If he's man-of-the-match on Sunday then Aberdeen stand a good chance of winning.
"Whether it's the overall performance, giving defenders confidence or even a penalty save with the last kick of the game, you have to be ready for it. You just don't know what's going to come about but you're needed to make saves and keep the ball out of the net. That'll give the team the best chance of winning.
"I've always felt we've had good young goalkeepers (at Norwich). As well as Joe, we've had Andy Marshall, Declan Rudd who's now at Preston and Remi Matthews at Bolton. These are players playing at the highest level and Joe is flying the flag for those goalkeepers.
"If he looks at his trophy cabinet at the end of his career and has medals and caps to look back on, then it's something to take away from it all. Joe has done that at various levels."
Gunn left the Dons in 1986, having won the Cup Winners' Cup and the League Cup under Ferguson, before embarking on a 12-year career with Norwich and becoming a Scotland international. He credits his time at Pittodrie as setting him up for future success, which included a Uefa Cup run in 1993 and victory over Bayern Munich.
He added: "It was special to be part of that and a big part of my education. I was on the bench for the cup final against Real Madrid and that's something I will never forget. I have really nice memories of our time together as a team and when we bump into each other, it's always with a warm embrace."
Gunn's son Angus is also a goalkeeper with Premier League side Southampton. He started his career at Norwich before having five years at Manchester City, before moving to St Mary's for an estimated £13.5 million this summer.
He is eligible to represent both England and Scotland, with national team assistant manager Peter Grant – a former Norwich player and manager – revealing in March this year they had made efforts to persude Gunn to play for Scotland.