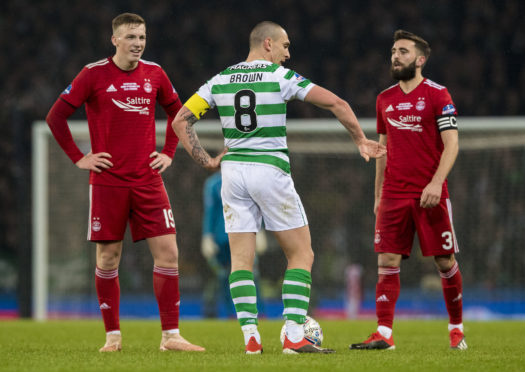 Aberdeen captain Graeme Shinnie blasted Celtic's lack of class as after Scott Brown and Mikael Lustig appeared to celebrate their Betfred Cup triumph in front of Lewis Ferguson.
Shinnie and Brown, who have previous dating back to last season, clashed on the pitch at Hampden Park in Celtic's 1-0 win, which was overshadowed by an injury to Gary Mackay-Steven.
Brown came on as a substitute in the second half and had clearly riled teenager Ferguson with an early challenge. Lustig then appeared to goad the 19-year-old, celebrating in front of him, which was the incident towards the end of the game that clearly annoyed Shinnie.
He said: "It just frustrated me when some of their players are celebrating in front of a young 19-year-old kid who is just trying to do well. You can have a wee bit more class than that. There's ways to go about being a captain. You can have a bit of class about you – they don't and it frustrated me. But we have to deal with it. They were 1-0 up and they had the ascendency and it gave them the chance to do it. I'm big enough and man enough to take it.
"I don't know. There were obviously battles going on in the game but you'd have to ask him that. It's happened more than once. I'm used to it now. It is what it is. I'm big enough and man enough to deal with it. Celtic have won the cup so congratulations to them.
"He (Brown) will do what he does. It doesn't bother me. But when it's people like young Ferguson they are going for…they are older professionals and they should know better. But we can deal with it.
"Did I have to speak with Lewis afterwards? No, he's a mature young man. He's dealt with stuff like that in the past and he will deal with it again when he's involved in big games. He can handle himself very well and he will be fine."
Shinnie was also one of the first on the scene for Mackay-Steven's injury, which occurred in the 39th minute following a collision with Dedryck Boyata. Mackay-Steven required emergency treatment on the pitch and Shinnie could be seen urging the medical staff to come on to the field quicker and treat his team-mate.
The Dons skipper added that it was one of the worst things he had seen on a football pitch, which intensified the will to win a medal for his stricken colleague.
He added: "The medics dealt with it really well. I was just hyped up seeing Gaz the way he was. It was one of the worst I've ever seen since I started playing football. I was just wanting to get things moving as quickly as possible and to get him the help he was needing.
"He was out cold. He was knocked out but I don't want to go into much more about what I saw out of respect for Gaz. It wasn't nice but the medics did really well to give him the help he needed.
"It's not great to see but the doctors and staff handled it so well. Massive praise goes to them and I'm hoping he was okay. After that we wanted to get back into the game for Gaz and hopefully go to see him in hospital with a winners' medal. But it was not to be."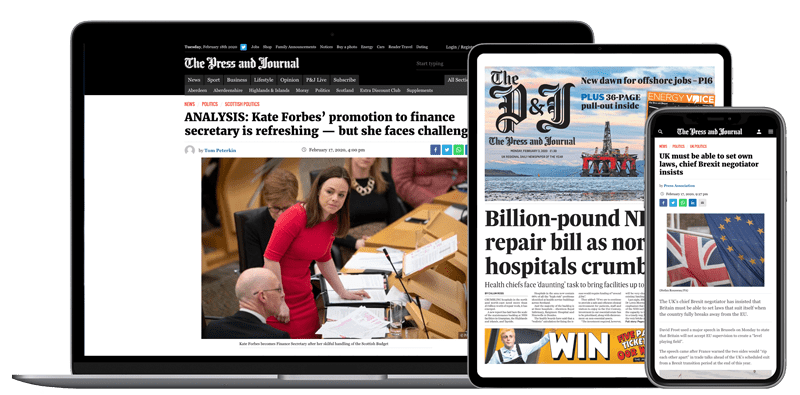 Help support quality local journalism … become a digital subscriber to The Press and Journal
For as little as £5.99 a month you can access all of our content, including Premium articles.
Subscribe