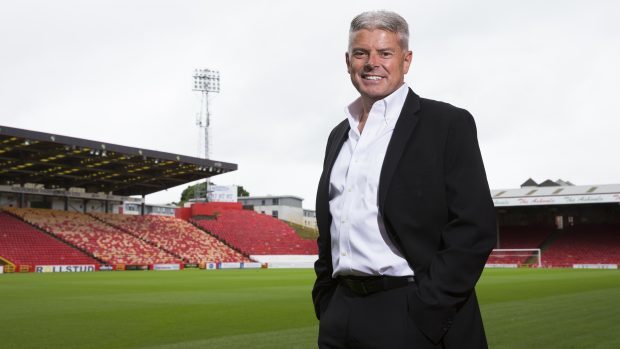 Aberdeen director and former chief executive Dave Cormack has been appointed vice-chairman of the club.
Lifelong Dons supporter Cormack, who joined the club's board in the summer of 2017, is a major shareholder and along with additional investment from US based investor Tom Crotty has helped the fund-raising efforts for the new community sports campus training facilities and stadium at Kingsford to £8.5million.
Cormack, who splits his time between Aberdeen and Atlanta, said: "I'm honoured and proud to take up the role of vice-chairman at the club I've loved all my life.
"We've made some remarkable progress in the last year or so, particularly in relation to our marketing and commercial activities and also in getting planning consent for Kingsford, along with securing the bulk of the funds for phase one.
"It's clear we've still got some real challenges ahead if we are to achieve our ambitions on and off the pitch, but we're in a healthy position to maximise our potential with a winning team, further investment, strategic partnerships here and in the US and a growing and more engaged fanbase."
Dons chairman Stewart Milne believes Cormack's enthusiasm and ability to attract investment from across the Atlantic into the club will be a valuable tool in the club's development.
He said: "The club is incredibly fortunate to have Dave and it is only right and fitting that his contribution is recognised through this appointment.
"Despite being based in the States, Dave is a passionate and committed board director, who has provided huge support to me personally and to his fellow board directors as well as the sales and marketing team within the club.
"Having played a key role in appointing Rob Wicks, Dave has supported him in the design and implementation of campaigns and initiatives which are transforming the way we do things and allowing us to maximise our potential at home and overseas.
"This appointment is testament to and acknowledgement of Dave's contribution to the club over the last 18 months. He's been a great partner to me, bringing a fresh perspective, innovation and business acumen which have enabled us to further strengthen the club's commercial performance.
"Equally, his passion and shared ambition for the Community Trust have enabled us to deliver new initiatives, including the partnership with US-based Grassroot Soccer, the first of its kind in the UK, to roll-out a football-inspired education programme for young people around mental health."