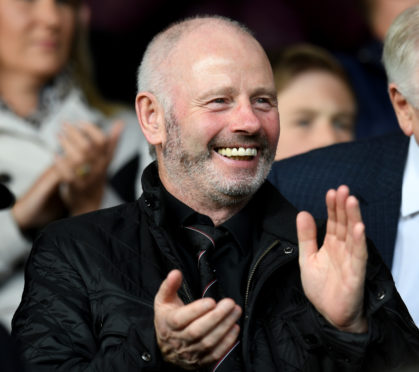 Scottish football has been swimming against the tide somewhat against the avalanche of money flowing south of the border.
Wages, transfer fees, television rights; the game in England is a smorgasbord of cheques cashed with a frightening amount of zeroes.
Scotland has been putting up a rabid defence of its own product this evening and casting asunder impressions of a Glasgow hegemony of the domestic game. Only Portugal can match Scotland for the closeness between the top four teams, with the Italian, Dutch and French top flights already seeing their gaps well into double-figures.
For Aberdeen chairman Stewart Milne, the new Scottish TV deal – agreed last month with Sky – was a disappointment in financial terms. Their five-year, £160 million agreement came on the same day the broadcaster announced a £595 million deal with the English Football League for the same time period.
Milne said: "In some ways it is disappointing that the two things haven't married up the way we would have liked to see. We have got ourselves in the best position that the SPL has been in for the last 15 years but it hasn't coincided with the broadcasters wanting to be generous. The whole broadcast landscape has changed dramatically over the last 18 months. "It has been less competitive although we have ended up doing a reasonably good deal with Sky going forward.
"It did fall short of expectations we had 12 or 18 months ago, when we were hoping there would be a bigger injection into Scottish football. That is alongside the fact that substantially games can be televised going forward and there will be less disruption to the Saturday/Sunday calendar. We will be down to one broadcaster and they will be looking to serious invest in promoting the Scottish game to a much higher level over the next five years or so. The clubs have to work hard with Sky to get the game showcased to a totally new level."
Funding may not be available as readily to enhance Aberdeen's playing squad as in seasons' past. Milne hinted at some players leaving if money is to be made available for January additions, with the window opening today.
One of the key areas for Milne and the board to focus on is how to drive extra revenue on a match-day, with the Dons slipping behind their average attendance from last season by more than 1,000 spectators.
He said: "Most people appreciate the constraints we work under in Scottish football. We have worked hard over the last four or five years to continually grow Derek's budgets. When the window is open Derek has clear plans of the move he wants to make. We will work with him but Derek recognises there is not a huge pot of money there to work with. It is about how we can reshape the squad over the January window so we are geared up as strongly as we can be to tackle the second half of the season.
"What helped last year was the AberDNA money. We still have to find additional areas to see if we can squeeze additional cash out of whatever fund. One of the critical things is that we have fallen behind Hearts and Hibs, in particular, because they have grown their crowds a bit quicker than we have. That is an area we have to work really hard on to try and get another 1,000 or 1,500 on the average gate."
A potential source of revenue would be the sale of players, with Scott McKenna in particular the Dons most saleable asset. The Dons rejected a £7m offer from Aston Villa in the summer window and Celtic also saw a bid fall flat. A concerted effort was made to hold on to the player until January and interest in the Scotland cap is sure to resurface.
Milne added: "We can honestly say there is no firm interest in Scott in terms of anything made officially or unofficially to the club. We know there are scouts at most of our games, watching various players. We know Scott is of interest to a number of clubs down in England. We will just have to wait and see what materialises in January.
"We felt it was very important to keep Scott. We lost a lot of very good players out of the squad that summer and we all felt it was important to keep the momentum going that we had built over the last four years or so. We all believed the right decision was to hold on to Scott until, at least, the January window, so we could get the season off to a good start. He is a player who has played a huge part in getting us up the table.
"The expectations are high."