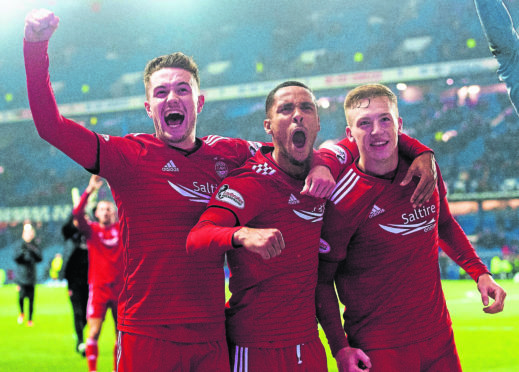 Aberdeen manager Derek McInnes believes 2018 was the year the Dons ended any questions over their capacity to handle big games.
The Dons ended the year with a 2-1 victory at Livingston to head into the winter break three points adrift of leaders Celtic.
Along with a fourth successive top two finish in the league, the Dons also reached last month's Betfred Cup final thanks to a 1-0 win over rivals Rangers in the semi-finals.
Although they missed out on clinching silverware after a 1-0 defeat by Celtic in the final, McInnes believes there were plenty of positives for the Dons to take from 2018.
He said: "It was probably a similar pattern to previous years. We had a few highlights. I think it is the first time since 1983 we were able to win at Hampden, Ibrox and Parkhead in the same calendar year.
"That maybe quashes the feeling we don't win big games. We won a lot of meaningful games. We had a lot of exciting games, finished second again, got to another cup final and we had to deal with losing some good players again.
"We lost players who have played a key role for me over the past few years.
"We have a younger team this year and we've had a younger from August to now than we had from January to June. We are trying to build another squad that can keep us as consistent as we have been."
The challenge for McInnes and his players is to improve in 2019 with the Dons manager hoping to bring some new faces to Pittodrie this month to bolster his squad for the second half of the campaign.
He said: "Improvement comes in all sorts of ways. The biggest improvement since we took over is we actually have a team of value on the pitch. We have developed players and we have players playing at a high level. Improvements come from trophies, league positions and a lot of different ways. We are improving as a club off the pitch with the training facility and new stadium.
"We maybe have an even more motivated board and we are debt-free. What we have done on the pitch has been the catalyst for what we are doing off the pitch.
"Quick-fix improvements come through finances. If we had more money to spend we could make those improvements quicker. But we have managed to be competitive without really having money to spend.We'll continue to do what we can to try to get the best out the players we have."
The Dons manager, meanwhile, is confident loan players Dom Ball and James Wilson will remain with the club for the second half of the season.
He added: "The agreements are there and it is up to the parent clubs if they want to change that. It is the same as with our young players. We have the ability to bring them back from loan spells."