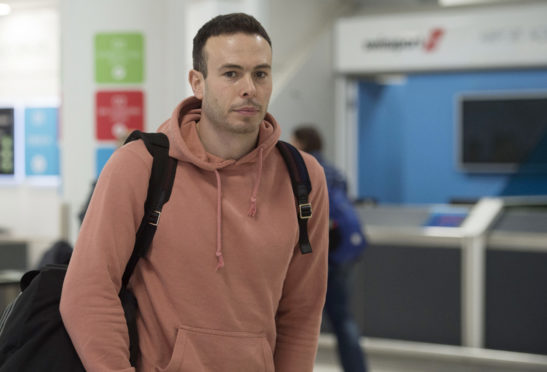 Joe Smith's family is steeped in Aberdeen red, which makes this week's Dons visit so special.
The ex-pat supporter has lived in Dubai for nine years, working for freight company Pentagon, and has managed to get along and see his beloved reds each time they have visited the Gulf State.
His father, also Joe, played for Aberdeen between 1972 and 1978 and won the League Cup 2-1 against Celtic in 1976 under Ally Macleod. Former Dons midfielder Dougie Bell, who played for the club between 1978 and 1985 is his uncle, while his grandmother used to board the players.
The Dons are embarking on their third trip to Dubai this week for a warm-weather training camp and the Northern Elite supporters group, of which Smith is a member, are hoping the Dons can get a game organised so they can cheer on their hometown club.
He said: "We always keep in touch with how they're doing, through the good times and the bad. I have a long association with the club and I always try and watch them as much as I can. We've got a good group of 30 or 40 guys out here (that follow the Dons) and when the team comes out, all the families come out too.
"When the cup final was on (against Celtic), we all went down to an Irish bar and took it over to watch. The supporters here are loyal and want to keep in touch with their football team.
"We used to have a team of our own out here at one point but with the decline of the oil industry, that has been and gone. We've managed to get down to the game the last two years and hopefully something can be organised this time."
With the oil industry still taking a significant number of Aberdonians from the Granite City to the Middle East, a strong reds contingent meet up in Dubai to watch the big cup games. Smith has also been victorious at the two sponsors' golf days held at the Arabian Ranches Golf Club, his team partnering with Andy Considine in 2017 and Kenny McLean last year. However, there will be no tournament this week.
Smith said: "It's a bit disappointing them not doing it this year as it's always a good interaction with the guys, but they must have a full schedule. I've obviously won it the last two years and I can say Andy Considine is the far better golfer! It went down pretty well the last two years so hopefully they can get a game for everyone to get along."
Smith has been in the Middle East for nine years, working as the UAE sales manager for Pentagon. He still tries to get home to the Granite City for games – even if his recent record is not great.
He added: "I normally go back in the summer and try catch the first game of the season. When Rangers came back up, I had a big plan to go home and watch it but they got beat 3-0, so I haven't been that lucky."