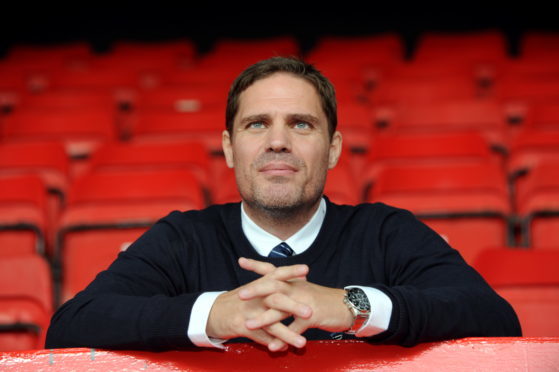 Even though he is 4,500 miles from home, Ally Begg refuses to miss an Aberdeen match.
Living in Doha, the capital of Qatar, means the calling of Pittodrie feels a long way off for the BeINSports producer.
But with a large ex-pat community in the Middle East, thanks to the oil and gas industry, Begg is never far away from those of a red-and-white persuasion, and utilises RedTV to ensure he never misses a game.
He said: "I haven't missed a game in about two years. We have the right to Scottish football over here, so I can sit in the office and watch the games. Nothing beats going to games and it's something I really miss. But it was the decision I made when I moved from Glasgow. I went to the League Cup semi-final against Rangers, which was absolutely brilliant. I had the choice of the semi-final or the final and I made the right one!
"Because we have such a big ex-pat community out here, with a lot of people working in the oil and gas industry out here, people are asking me if we'll have the game on. I'm grateful to the platforms we have in the modern age that I'm able to watch the games, as we can get the 3pm kick-offs over here which you can't get in the UK."
Begg was raised in Newburgh and attended Ellon Academy, before finding fame as part of boyband Bad Boys Inc. When the band broke up in 1995, he diversified into television presenting, subsequently working for MUTV, ESPN and Setanta, before moving to Singapore in 2007. He has been in Qatar since 2013.
The 47-year-old was back in his native Aberdeen in October to film for his blog, Begg to Differ, which featured a behind-the-scenes tour of an average day at the club with defender Andy Considine. He has also run a series called 'That Goal', which features interviews with Dons cup-winners like Paul Mason, Brian Irvine, Duncan Shearer and Adam Rooney.
"Whenever I'm home, I always make a beeline for home games. Even before I book flights, I take a quick look at the fixtures and see if there is a game I can go to. So far, it's always worked out well and I've managed to get to one.
"It's always really nice to go back as it was a massive part of my childhood. Pittodrie was like my second home and every time I go, it's a chance to catch up with old pals. It's a spiritual home, I suppose, and I always make sure I go when I'm home."
The Dons are in the Middle East themselves this week at their winter training base in Dubai, which would normally be a short flight from Qatar. However, due to the blockade in place since 2017, numerous gulf states have imposed travel sanctions on Qatar and there are no direct flights to the UAE from Doha. Begg would instead have to detour to Oman and catch a connecting flight on to Dubai.
As well as the employees in the oil and gas sector that reside in the gulf, a former Dons player also calls the Middle East home. Former Aberdeen captain Derek Whyte, who also played for Celtic and Middlesbrough, works for Torishima Service Solutions in the UAE and joined up with the Dons for their sponsors' golf days in 2017 and 2018.
Begg added: "My wife and I have spoke about spending a long weekend there and I have not seen Derek for a while."