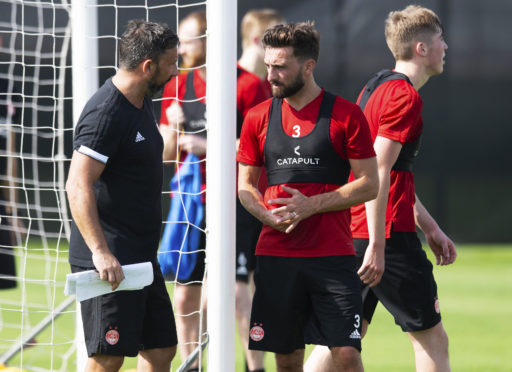 Whether he intended to be or not, Graeme Shinnie has become the heartbeat of the Aberdeen team.
Aggressive, relentless, energetic and a leader; Shinnie is everything Derek McInnes wants in his side. That is why his potential exit from the club would hurt so much.
Brought up in Cove on the outskirts of Aberdeen, he is the homegrown hero the fans cling on to. An old throwback to the days of local heroes and a worthy recipient of the 'one of our own' choruses.
It is a kind of adulation that the Scotland cap would struggle to get anywhere else and the man who brought him to Aberdeen, manager Derek McInnes, knows it.
He said: "Shinnie won't get the status he's got here with anybody else. He's so relevant to our club – his association with the club and the team. He's the heartbeat of my team. The bond with the supporters doesn't always come but he's got that. You won't always get that and I'm sure he sees that. He's a smart boy and I just hope he makes the right decision."
Brentford and Hull City have both been credited with an interest in Shinnie, who sees his contract expire in the summer. Losing him would be another kick in the teeth, after losing Ryan Jack and Kenny McLean in consecutive summers.
One player McInnes hopes is not added to that list is Scott McKenna, who continues to add suitors to his ever-growing CV. Hull had several bids rejected for him when the Dons were in Dubai last year and further offers from Celtic and Aston Villa were knocked back in the summer.
His rise over the last 18 months has been somewhat stratospheric and McInnes has previously stated his belief he will be bound for the English Premiership. Defenders who captain their country at such a young age do not grow on trees.
McInnes said: "I would be pretty sure there will be some activity about McKenna and some phone calls about him. I've already had a couple to be honest, but nothing has materialised. We have got to where we are after 21 league games, we've got to a cup final this season already, and I want to go with the strength of the team at the minute and not lose anybody.
"With injured players coming back I think we can be stronger again in the second half of the season and hopefully add to the squad. I'm wanting all my players, my key players like McKenna especially to be with us for the full season. Only money can change that. It's up to other clubs to come in. Hopefully nobody comes in but it can change pretty quickly. Somebody's in desperation and in need they will pay the money, so we'll see.
"We are on the border of the richest league in the world. We lose players to The Championship, loan players might go back to Premier League clubs or whatever, and obviously we've lost Jonny (Hayes) and Niall (McGinn) for the money, Ryan (Jack) goes to Rangers. So within every good team there always good players within it and they are the ones a lot of the time when recognition for them can feel like a threat.
"But it's our job to try to get those performances out of them and get more consistency from them, but every time they perform and everyone recognises how good they are it makes us more vulnerable to losing them. That's just the way it is. Unless somebody on the board increases the budget tenfold we're not going to be able to deal with that side of it all the time."
McInnes was presented with December's manager of the month award at the Jebel Ali Centre in Dubai, alongside Sam Cosgrove who took the player's gong. Cosgrove's seven goals in December have seen his perception turn full-circle and McInnes reckons he was being written off far too soon into his Dons career.
He added: "It's probably too much to ask to take a boy from Carlisle Reserves and say 'go and be our main striker.' At the start we didn't feel that was going to be the case. But there was a thought that he could be in time, somebody who would be a real asset to us. But he deserves so much credit because he's really knuckled down.
"I heard some people commentating and they were saying he will never be an Aberdeen player. That he isn't good enough. But people are too quick to dismiss and too quick to comment, as is the nature of our game up here. So I'm glad he's maybe turned around that perception.
"With the added confidence he's got he has shown he can be a handful. I would have concerns playing against Sam Cosgrove if he was lining up against me. He can go in behind if you defend high and he can be a problem in the box if you defend deep.
"Now with the confidence he is starting to show a bit more of himself so I'm delighted to get him on a new longer term contract.