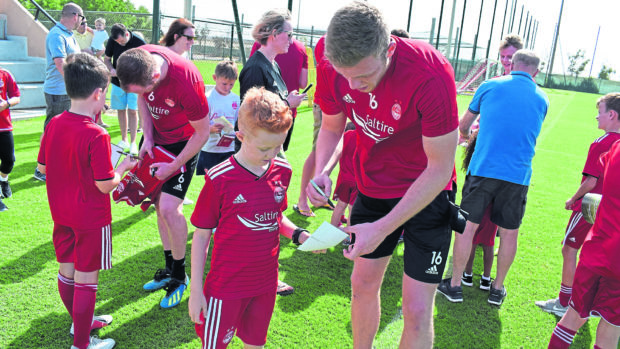 Staying grounded has helped Sam Cosgrove's Aberdeen career take flight.
His form over the last month has catapulted him into cult-hero status with the Aberdeen fans so much so they are pressing his case for the Ballon d'Or.
Seven goals in five December matches saw him scoop the player of the month award but before he can even think about carried away, he only has to think back to his time battling with aggressive non-league centre backs in England as a teenager, where the game was less pass-and-move and more kick-and-shove.
However, stints at football's coalface like that prepared Cosgrove for what was to come and he has certainly had to work for his big move. A £20,000 move from Carlisle United last January was a transfer viewed one for the future by manager Derek McInnes. But Cosgrove has proved to be his most-trusted striker in the bigger games.
That is so much sweeter for the softly-spoken striker when you consider his route to Pittodrie.
Cosgrove said: "I'm one that's not had it all their own way. I came through at Everton when I was younger, then at Wigan in the youth team on a scholarship. Towards the end at Wigan I spent quite a bit of time on loan in the non-leagues, which was quite an eye-opener. Not a lot of football takes place and it was a hard realisation for me.
"There were times when I was thinking 'is this something I really want to be doing?'. I would always play football at some level so I thought I'd stick in and do the best I could. I spent a few months at Barrow, Chorley and North Ferriby. It was basically big defenders doing what I do to people!
"No one can do anything to you on a football pitch – there's only a certain amount of intimidation you can do. People will try and get inside your head but it's how you deal with that.
"You need a certain amount of resilience and self-belief within football. I've shown I've got that coming through some sticky times and it almost makes me realise it'll never happen again to me. Thankfully at the moment it's keeping me in a good place and I don't intend to stop."
Cosgrove was the role model at Wigan. They hold him up as an example to youngsters now as how to behave and how to go about your development at a football club.
He studied marine biology during his time at the DW Stadium, alongside his football career, and remains invested in education now he is in the Granite City.
Cosgrove said: "I did my A-Levels at Wigan, alongside my football, and I've kept my studies going. I'm doing an accountancy course and I've always felt education is important, so I've topped that up. It's the AAT course – it's self-taught and not quite a degree, but by the end I'll be qualified.
"I'd always have that as a potential fall-back. A career can be over within the click of a finger – a bad tackle or fall and you can be out of a job. I enjoy it at times as we're normally finished training by 2pm, so it keeps my mind active. Sometimes you can only get an hour done but it's pretty easy to balance."
All this points to a studious young man willing to put the hard yards in, knowing nothing is guaranteed. The move to Aberdeen came out of the blue but it is in the red of the Dons that Cosgrove is proving ever popular. He added: "I'd just got into the Carlisle team and scored for them.
"Whenever you do well there's always talk but the Aberdeen thing came out of the blue.
"It was a no-brainer, I was always going to come up.
"It's well-publicised after the Celtic red card that the manager was fantastic for me. I'm not a malicious player."