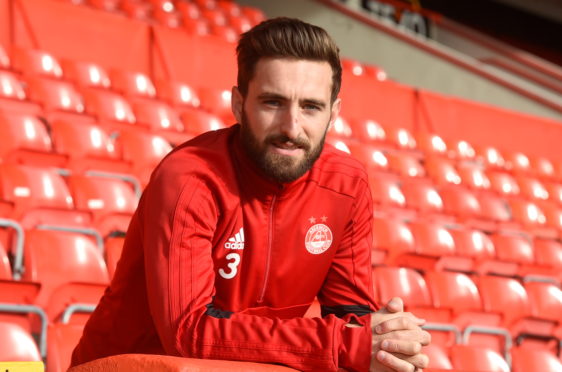 Graeme Shinnie is urging referees to stand strong as scrutiny intensifies on them ahead of Aberdeen's clash with Rangers.
Despite the captain not being shy of bookings over the course of his career, he admits their role could not be easy.
Shinnie said: "It's a tough job being a ref. I give them as much stick as anyone else on the pitch but they've got a really tough job and do well with what they have. I'll try my best not to give them a decision to make.
"I moan at them on the pitch but that's just because I want to win and I'm competitive. I've not been booked as much this season so I'm actually in favour with them. Games like tonight and the atmosphere that comes with it will make it an even tougher job. It's important that they stand strong.
"If you're in a team and not doing well then criticism will come. If we were falling down the league and not playing well then there's going to be criticism, so there's always going to be that if there's some wrong decisions. It's tough on them but they need to stand strong and do their job to the best that they can.
"I just try to speak to them as much as possible. Any sort of decision. Sometimes they'll apologise and say they got it wrong and sometimes I'll apologise and say I was over the top, stamping my feet and throwing my arms about. It's always good to try and work with them and help them as much as they help you."
Referee Andrew Dallas awarded Rangers four penalties in Saturday's 4-0 win over St Mirren, with three of them appearing incorrect. Bobby Madden is the man in the middle tonight.
Gers striker Alfredo Morelos has been sent off twice against the Dons this season – the second time for a clash with Shinnie at Ibrox – but he insists no-one will be targeting the Colombian again.
He added: "Any professional wouldn't want to get another sent off, winding them up and playing on that. If he gets sent off then it's his own doing but I wouldn't encourage winding people up and trying to get them sent off."
The 27-year-old is out of contract at the end of the season but there has still been no progression with tying him down to a long-term deal at Pittodrie.
Shinnie said: "I've had about 19 games in the last two months. Games are coming thick and fast so we'll see what happens."