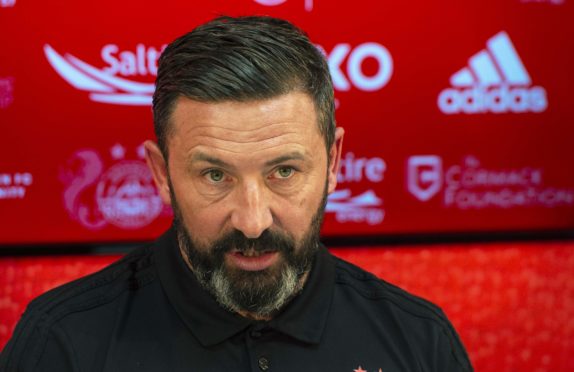 Aberdeen manager Derek McInnes does not feel enough progress has been made on tackling sectarianism in Scottish football.
Kilmarnock manager Steve Clarke said he faced sectarian abuse from the "dark ages" at Ibrox in his side's 5-0 Scottish Cup defeat.
Clarke said he was thankful to Chelsea for getting him out of the west of Scotland during his time as a player, so his children did not have to grow up in that environment.
The Aberdeen manager, who was raised in Paisley, believes there is still plenty of work to be done to eradicate the issue of bigotry from the game.
He said: "It goes from being friendly banter to just going beyond. Just because people pay to get into a ground, there's elements that feel they're justified to say or act any way they can. It should be stamped out and highlighted more.
"I'm hardened to it. I was brought up in Paisley and from the sectarianism point of view, I'm used to it.
"If it was as bad as portrayed, there should be someone commenting on it saying it's bang out of order. Wherever it is, there has to be a condemnation of that. It's got to be highlighted or it's not going to change. I don't think it's any worse or better than when I was growing up.
"He's (Clarke) quite right to come out if he feels that strongly. I only saw the fallout from it – it's disappointing that a manager needs to come out and say what he said. If it's as bad as has been alluded to, it should be highlighted anyway. It shouldn't take a manager to do it.
"Whether it's radio, if the game is on TV, written press – it should be criticised and highlighted how unjust it is. Managers regardless of whether its sectarianism, get abused week in week out. We've been here before."
Tuesday night was the latest in a line of unsavoury incidents that have cast shadows over the Scottish game this season. It came just days after Kris Boyd was hit by a coin during Killie's 1-0 defeat by Celtic, while former Hibernian manager Neil Lennon also suffered similar treatment during a game against Hearts at Tynecastle.
McInnes added: "Society just goes into a football ground. Games give the vehicle to spout all this nonsense, as well as social media. For me it hasn't got any worse but it hasn't got any better.
"There's good people and good supporters who get behind their team. But there's an element in each support who feel they can act and say whatever they want. They need to know they can't. Social media can combust the situation quickly and the game can be where it's transmitted, whether that is coin-throwing or abuse."