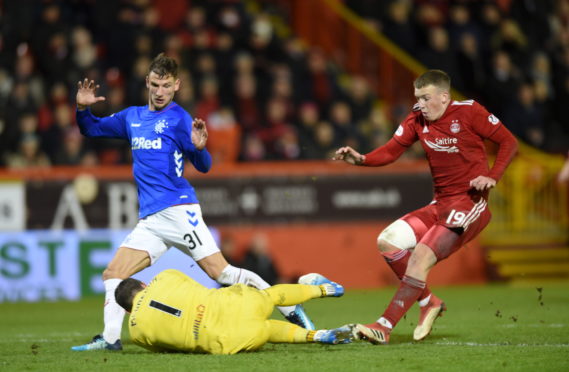 Aberdeen midfielder Lewis Ferguson insists there will be no bad blood with Allan McGregor when the Dons meet Rangers in next weekend's Scottish Cup quarter-final.
McGregor was banned for two matches for a studs-up challenge on Ferguson in the Gers' 4-2 win over Aberdeen earlier this month.
Ferguson, who penned a two-year extension to his current deal yesterday, keeping him at Pittodrie until 2024, said the incident was forgotten about as far as he was concerned after the game.
He said: "After the tackle happened I was obviously a bit angry at him but that's football. I've tackled like that in my career when I was playing in the development league. I've put in bad tackles but you move on from it.
"After the game I wasn't really bothered if he got the ban or not. I never read into stuff like that. It's done. It didn't have an effect on me. I've done it before and I'm sure other professionals have done it before.
"I saw my dad said I could have (done him) if I really wanted to. I've mistimed that one. Max Lowe has put a fantastic ball in. It bounced up a wee bit and I just thought maybe if I reacted quicker I could have got there but he was sharp and straight onto it. As I went, I've pulled out of it. If you watch it in slow motion I've pulled out and never went in with any intent. I got booked but I've been booked about 14 times this season.
"There's no bad blood. I'm sure it's the same with Allan. After it happened, I never really thought about it again. It's football. It's going to happen and people are going to make mistakes."
Ferguson joined from Hamilton Accies in the summer and has made a huge impact during his half-a-season at Pittodrie. His contract extension had been mooted in December and news of his signing was broken by his father Derek on the radio during the St Mirren game last Saturday.
Ferguson added: "My brothers and I gave him a bit of stick. He didn't like it to be fair. We just saw the funny side of it.
"It was right after the game. I was obviously disappointed with the game and then the gaffer mentioned it to me. It was a bit of a surprise, but I spoke to him on Sunday morning and I was just slagging him.
"The gaffer has echoed that, that he's just been so proud that I've agreed a contract and he's just let it slip. I think, to be fair, he was asked about it after I scored. I think he was just very proud and let it out."