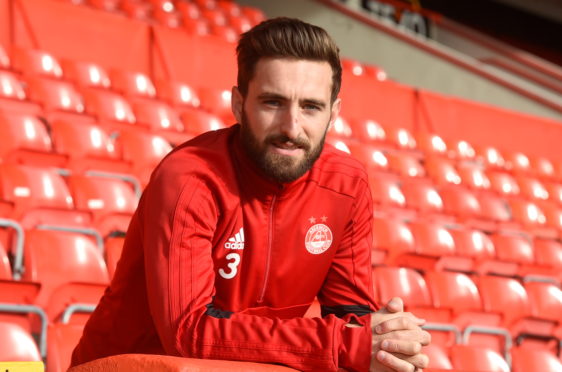 Former Aberdeen captain Russell Anderson knows the size of the task facing Dons skipper Graeme Shinnie as he mulls over whether to stay at the club or leave for a fresh challenge but hopes Shinnie will stay at Pittodrie.
The Dons captain has been offered a new long-term deal by the club but as the clock ticks down on his current deal which expires in three months Shinnie has so far refused to commit his future to Aberdeen.
Anderson knows the agonising decision facing Shinnie as he opted to leave Pittodrie for a new challenge in Sunderland before returning to the club to finish his career, but he hopes the current Dons skipper does not follow his lead.
He said: "I've only got a fair idea of what he's going through and the type of things he'll be considering: his stature at Aberdeen as a player, how well thought of he is, the chance to win trophies as a captain.
"That's all well documented because there are other things that you have to take into account. You've seen it happen to other players that they've done well when they've been here and naturally they've attracted attention from other clubs.
"I can appreciate the position he is in but ultimately it is going to be his call. Whatever he decides to do, then I'm sure he'll explain it. Personally I'd like to see him stay because he's been such a big player for the team since he's been here."
Dons boss Derek McInnes hopes Shinnie's bond with the supporters and the manager will be enough to convince him to put pen to paper on a new deal but Anderson knows McInnes will be compiling a list of potential replacements in the event his captain departs.
He said: "The entire support would be disappointed if he moved on but I think some would recognise it for what it is.
"It's a difficult one for him but he is at a stage now in his career where he needs to make what he feels is the right decision because football can change very quickly and I've seen that myself.
"The fans have taken to him because of the way he plays. That's not to say that other players give less but I just think he's infectious in terms of the way he delivers his performances. He can have a positive impact in terms of the players around him and I think the fans appreciate that. They see him as one of their own.
"It's not an easy decision which is why it does take time when it comes to it. I don't know the ins and outs of it but I'm sure Graeme will come out and make his decision.
"The club will already be planning on the different outcomes and will be doing their due diligence on potential replacements because they have to. They'll be hoping they don't need them."