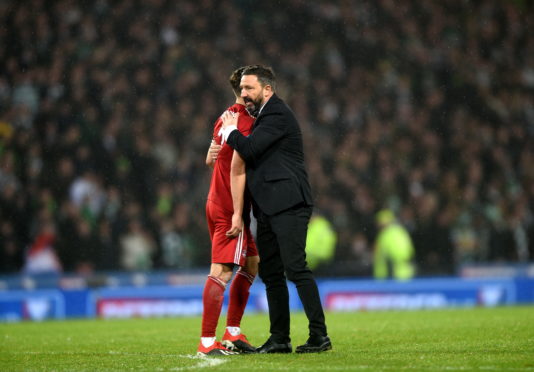 Aberdeen boss Derek McInnes wants Scottish clubs to do more to eradicate disorderly fan behaviour.
A series of high-profile off-field incidents have dominated headlines in recent weeks, from managers being targeted with coins, Scott Sinclair having a Buckfast bottle thrown at him from a Hibernian fan and Steve Clarke being on the receiving end of sectarian abuse.
The Dons travel to Parkhead today and Ibrox on Tuesday, in what are sure to be two powderkeg fixtures on the Scottish football calendar.
McInnes himself has been the target of abuse from the stands and while he would not discourage any of his own family from coming to games, he does think clubs need to take a greater stance to weed out the perpetrators.
He said: "I think every time you see it coming up on the ticker tape 'another incident', it's the media's job to highlight these things, but what it does is that it sheds us in a bad light. It's just one thing after the other. You start to become embarrassed, you're scunnered by it.
"Whether it's banners, abuse or coin-throwing; this isn't exclusive to Scottish football but in recent months it's been far more prominent. I still think there's an element of people who come to games, at most clubs, with the intention of causing bother. They pay their money and think they can act in any way they like. They can't. They need to know there's a code of conduct and it's clubs' responsibility to know that's not unacceptable.
"In the street, I'm sure people shout abuse, thrown coins and punches and it's acted upon. Some actually glorify how they act and it's seen as banter, or a carry-on. It's a disappointment in this modern day that people are videoing themselves on social media.
"It's a sad course of events where we're giving them the coverage that a lot of them will enjoy. But we need to highlight this behaviour and there's been too many of these off-field incidents. We want to be talking about the football as there is a lot of good about Scottish football, this season in particular.
"Clubs need to take more responsibility and most will be trying to do the right thing. I still think they're capable of more. Whether it's throwing coins or displaying banners, racial or sectarian abuse, there is capability at most grounds to zoom in on most people. A warning can be made, either by phone call or on the spot, or an invitation to come in saying 'we have you on CCTV'.
"Get them in and give them a warning – 'if it happens again, you'll not be back'. While it might be difficult going into a group of people who are shouting the same abuse, you can single people out and let them know you're on them. That for me, is where all clubs can be a bit more pro-active.
"If my kids wanted to come to games then I wouldn't stop them. They are there to support me and my team but I think the fact you have to ask the question is disappointing. It's something that a lot of people have to consider which tells you a lot about where we are. People ought to be free to come to games if they want."