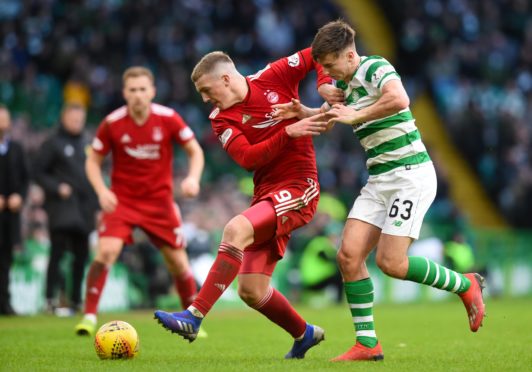 Ignorance may well prove to be bliss for Derek McInnes' Aberdeen side as they look to secure another Scottish Cup semi-final berth.
McInnes reckons the youthful nature of his squad can play into their hands, in they are not scarred by previous visits to the capital.
The Dons manager fielded his youngest side of the season against Celtic on Saturday at 24 years and eight months, with only Joe Lewis and Andy Considine over 30. Five players under 23 and four teenagers all featured at Parkhead, with 19-year-olds Lewis Ferguson and Connor McLennan becoming regulars this season.
It has helped alter the perception of Aberdeen struggling in Glasgow, after positive results at Celtic Park, Ibrox and Hampden in the last 12 months.
McInnes said: "We're probably only one result from the perception flipping again. In the last three games at Parkhead, we've won 1-0, lost 1-0 to a Scott Sinclair backheel and drawn 0-0. We've won 1-0 at Hampden and 1-0 at Ibrox. Ironically it's probably the youngest team I've ever had and we're harnessing experience. Maybe there's not the same hang-ups with players going there time again and taking a sore one.
"Ferguson has proved himself over a period of time now. He's a wee bit of a throwback to how it used to be with boys. There's no real ego about him and he's just an unfussy boy. He just gets on with the game in hand.
"We've played him as a holding midfielder, we've played him behind the striker as an attacking midfielder and in other different roles. He just adapts to it. I think I could play him anywhere and he would just get on with the job. He's been fantastic and he's made a big impression on his team-mates.
"Young Dean is a real technical player. He probably has to do better in the untidy games and the physical part of the game but in a game like Saturday when it was more about thought and positioning and keeping the ball, he adapted to it. He's going to have a good future for us I think. He's a good size, left-footed and takes responsibility. Once he fills out and becomes more than just a nice footballer he will be a big player for us."
It would be an eighth semi-final under McInnes if the Dons were to triumph against Rangers tonight, with that prize enough to focus minds on the task at hand.
McInnes added: "There's a semi-final at stake – there's no real motivation needed for tonight. The tie is tough for both teams – as soon as it was made it was going to be a difficult task to get through.
"I'd liked to have more Aberdeen fans there but we know who we represent. There'll be plenty listening in hoping we get the right result. We know what's at stake.