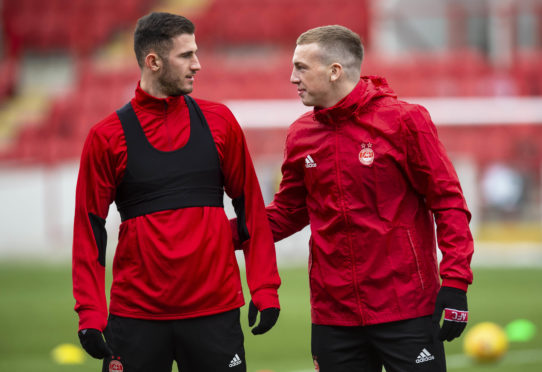 Staying at Aberdeen appeals to Dominic Ball after turning round his fortunes at Pittodrie.
Ball his improved on a disappointing 2017-18 campaign, where he did not play as much as he would like for the Dons and been counted on by manager Derek McInnes in some of their bigger games.
He is out of contract at parent club Rotherham United at the end of the season and would be open to making his temporary stay in the Granite City a permanent one.
Ball said: "My contract's up at the end of the season but I really don't know what's going to happen at the moment. I'm just trying to play as many games as I can at the moment then see what develops but it would appeal to me to stay here.
"That's the reason I decided to return on loan to Aberdeen in the first place as I wanted to be somewhere I was settled. I liked the coaches and the players when I was here last season and I felt like it was the right move for me to get playing again.
"This season has actually been massively better as last time I hardly played and I wasn't feeling right at all as I wasn't fit or sharp. My first impressions probably weren't the best but it is testament to my character that I've changed a lot of peoples minds and shown the type of player I am."
Ball has been deputising at right-back in the absence of Shay Logan, who is out following an ankle operation. However, he has been joined by former Millers teammate Greg Halford this month, who is also vying for game-time after being without a club for nine months.
Ball added: "I played with Greg at Rotherham as he was there for the first six months when I joined the club. Obviously I knew him and he spoke to me about coming up to Pittodrie just before he signed last month.
"He's a very experienced guy as you can see by the clubs he's been with in the past. In fact he was telling me that there are only two stadiums where he hasn't played in the English Championship now and even the Premier League.
"So it helps Greg that he knows a few of the players here and I've helped him settle at Aberdeen as I'm his chauffeur at the moment."