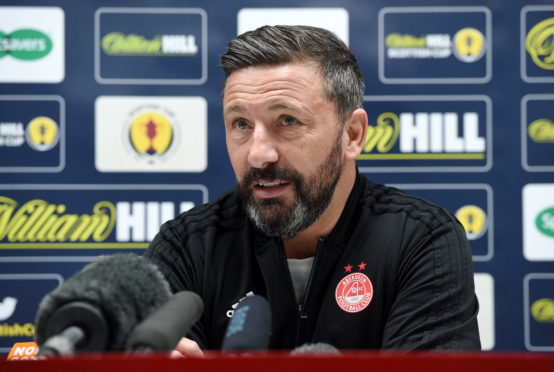 Aberdeen manager Derek McInnes reckons his Celtic counterpart Neil Lennon is on a hiding to nothing ahead of this Sunday's Scottish Cup semi-final.
Lennon was placed in temporary charge of the Hoops after Brendan Rodgers left for Leicester in February with the Hoops chasing a treble-treble.
The Hoops look certain to record an eight consecutive league title and have already beaten the Dons this season in the Betfred Cup final.
Lennon's chances of landing the Celtic job on a permanent basis may hinge on whether he can secure another domestic clean sweep.
McInnes, however, admits it will be is difficult for Lennon to follow in the footsteps of Rodgers, who won seven successive trophies during his spell in charge.
He said: "It's still the same players. They've got players who can turn the game in an instant. In terms of the managers, both have been successful Celtic managers, Brendan and Neil.
"He's actually on a hiding to nothing because if he wins the league, he's already said it's Brendan's team and he's been really gracious that.
"If he wins the cup, people will say the same but if he loses the cup it's Neil's team and I think the only pressure on Neil will be from himself. I'm pretty sure that the people within Celtic are well aware of his abilities.
"People wouldn't have looked any differently if Brendan Rodgers didn't win the cup this season if he was still in charge. His job wouldn't have been in jeopardy. For me, the fact that they've gave Neil the opportunity in a difficult situation, regardless of how the season plays out for him in the cup, whether it's us beating them or whether he loses a final, I'm sure the people inside Celtic know of his capabilities. You wouldn't like to think that he has to win a cup to get the Celtic job. I would be very surprised if that's the case."
Lennon has yet to taste defeat during his second tenure in charge, with his side showing a penchant for late winners with goals against Rangers, Dundee and Hearts coming after 85 minutes.
McInnes added: "This Celtic team has shown real consistency since the turn of the year. I think you can maybe see little differences, probably more in the personalities of both managers. Brendan's team were far more controlled, deliberate with their work, controlling games and more patient. Neil's team are bit more 'here I am', right in your face and like to show you what they've got. I think that's natural.
"Any team at times can mirror their manager and what they want. There's no huge difference. It's down to the players and they're good players so Neil will recognise that's he's been fortunate to inherit a strong squad and whether it's the end of the season or next season when he starts to put more of his stamp on the team."