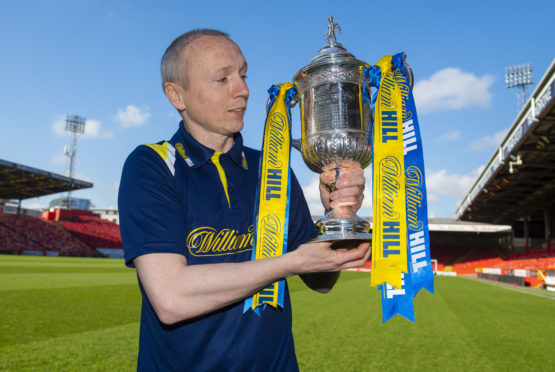 Failing to end Aberdeen's long wait for Scottish Cup success remains Willo Flood's biggest regret of his time with the Dons.
Two of the Irish midfielder's former clubs will contest Sunday's semi-final when Derek McInnes' Aberdeen take on Neil Lennon's Celtic.
Flood was an instrumental part of the Dons side that enjoyed League Cup success five years ago thanks to a penalty shootout victory over Caley Thistle.
The Dons, however, passed up a golden opportunity to reach the Scottish Cup final later that season when Stevie May inspired St Johnstone to a 2-1 victory in the last four of the competition.
But 33-year-old, Flood who has been without a club since a proposed move to Bali United fell through last summer, sees no reason why Derek McInnes can't guide the Reds to a first Scottish Cup triumph since 1990.
He said: "This semi is between the two teams who deserve to be where they are as they have done really well for Scottish football in the last five years.
"The cup is definitely Aberdeen's best chance of success as the gap in finances is too big for them to win the league.
"The only way they can compete in the Premiership would be to have the same sort of money as Rangers have.
"I'm sure if Derek McInnes had the same level of money as they have at Ibrox then you would see them right up there.
"This is the right time to play Celtic as Lenny will have different opinions on players than Brendan Rodgers did.
"For me Brendan had them playing the best football the Scotland has seen for a long time but they are adjusting to the new manager at the moment.
"It surprises me that Derek hasn't won a second trophy at Aberdeen because they have been so close so many times. To be honest we should have done the double in his first season as manager here.
"That was a massive disappointment. The team and the squad was definitely good enough. In the first half against St Johnstone, we were the better team at Ibrox. We were 1-0 up and should have been a few more up. In the second half they came out of the traps well and we were poor. Stevie May played really well on the day and probably got them through to the final.
"I just think our squad was too thin at the time as we probably only used only 14 or 15 players all season. To lose the players they have lost down the years and still be where they are is an unbelievable job.
"When people saw them in the first month of the season everyone was thinking Aberdeen might be lucky to finish in the top six but he always turns it around."
Flood is surprised the Dons have managed to hold on to McInnes with Sunderland and Rangers among the clubs who have tried to prise the former St Johnstone and Bristol City boss away from Aberdeen.
The former Dundee United player would love to see his old manager's faith rewarded with a second trophy for the Pittodrie cabinet.
Flood said: "I think when the right job he comes, then he might look to go and do something else. The relationship between him and the chairman is so strong. He runs the whole club and rightly so, because at the end of the day he's been successful.
"He makes players feel good about themselves. You go in one day and have an argument with him and go in the next day and he can be your best mate.
"He does little things that make you want to play for him. He has the lads raring to go for him.
"Whether you're a young lad or a senior pro, he treats everyone the same.
"You can see that when the young lads play. Look at the kid Connor McLennan. He's gone and really expressed himself. He wants to them to go and enjoy themselves and work hard. He'd like them to go on to bigger and better things.
"He would have built up a relationship with Scott McKenna before people saw him in the first team. Scott would have went into that environment feeling comfortable and ready to go."
• Willo Flood was speaking at a William Hill media event. William Hill is the proud sponsor of the Scottish Cup.