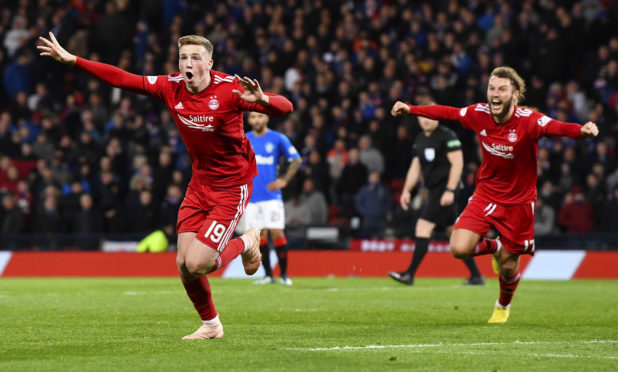 Lewis Ferguson has made a habit of scoring goals people cannot stop talking about.
However, his winner over Rangers in the League Cup semi-final was met by silence from one of his brothers when he returned to the family home.
The majority of the Ferguson family are Rangers supporters, including his father Derek and uncle Barry, who both played for the Ibrox club. His late winner at Hampden Park earlier in the season made him a cult hero in the eyes of Dons supporters, getting one over a major rival to get to the first final of the season.
But it came three months after he announced himself to the wider football world, bagging a superb overhead kick in front of the BT Sport cameras against Burnley in the Europa League.
The highlights of the game on YouTube have over 150,000 views and you can imagine a good portion of them come from Ferguson himself.
How do the two compare?
He said: "The one at Burnley is my favourite goal but we lost that day so it doesn't mean much in that sense. In terms of the occasion and the timing of the goal to get us to the final tops the one I scored at Turf Moor.
"The one against Rangers to win a semi final at Hampden was massive. It was brilliant and I have never felt anything like it. I was allowed back in the house and one of my brothers shook my hand when I got in but the other one didn't look at me. He just kept watching the telly but he was all right after a couple of minutes after me winding him up."
It has been a landmark campaign for the teenager, who had just a handful of starts at Hamilton Accies before he swapped one red jersey for another. A protracted tribunal to determine what Aberdeen would pay for his services played out in the background as he cemented himself as a Dons regular, a position he has showed no signs of relinquishing.
He has been called up to the Scotland under-21 squad and touted as a potential future international, but the biggest surprise at all for Ferguson was getting used to looking after himself away from home.
Ferguson said: "It's been different being in Aberdeen as I've been used to my mum and dad running me about and doing everything for me. Suddenly I was in a flat myself so it's been a bit of a reality check that I've had to do the washing and stuff for myself now.
"A few of the boys are in the same boat though and we all get along great in the changing room so it's been so easy to adapt and feel comfortable. We go out for food or a coffee after training and go watch football together at somebody's place or I'll chill out at home and watch TV or play Playstation."
He has already been part of one cup final squad this season, one that ended in defeat to Celtic in December. They meet the same opponent this Sunday at Mount Florida, this time for a place in the Scottish Cup final and for the Dons' teen sensation, he does not want the league champions ending their trophy hopes again.
He added: "I want to be remembered for winning cups and not just making it to cup finals so hopefully we can go all the way. Losing the last one was the biggest disappointment of my time at Aberdeen so far.
"It was my first cup final and I had no visions of us losing it and in the week building up all my thoughts were that we would win it. It was so disappointing on the day to end up losing as we played out of our skins and there wasn't much more we could have done.
"The difference was the fine margin that Celtic had to get the victory and while it was good to get there it was no good to lose it. Now to get to the Scottish Cup final and win it would just top off what has been a good season overall.
"It has been a successful season in many ways but to get a bit of silverware would really make it special."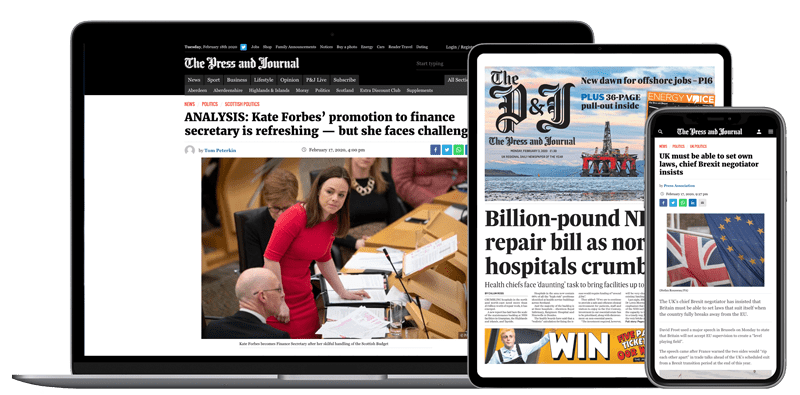 Help support quality local journalism … become a digital subscriber to The Press and Journal
For as little as £5.99 a month you can access all of our content, including Premium articles.
Subscribe