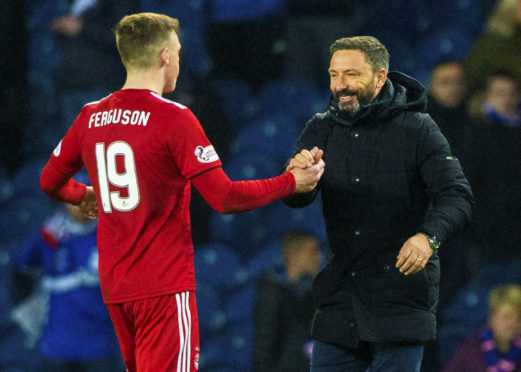 Derek McInnes reckons the platform is there for Lewis Ferguson to prove he is the best young player in Scotland.
Ferguson has enjoyed a break-out first season at Aberdeen, having joined from Hamilton Accies last summer, but Dons boss McInnes believes there is further untapped potential in the 19-year-old.
He scored an overhead kick against Burnley in just his second competitive appearance for the club and also netted the winner in the Betfred Cup semi-final against Rangers. He now has the chance to be part of another cup final team when the Dons take on Celtic at Hampden Park on Sunday, in the last four of the Scottish Cup.
McInnes said: "He has had a really strong first season, which has been recognised, and it's now about dealing with expectation. For me, Lewis is a boy who gets unfazed by anything. He is so laid back. He deals with everything in his stride.
"The potential is enormous because while I've played him in different positions, I see him as someone who can score 15,16,17 goals from midfield every season. He's a good finisher, good in the air and has great energy. He is capable of even more and that's the exciting part of it.
"First impressions are important. He was coming into a successful squad with a lot of good players and he would have been thinking about that first day. He just got on with it and he's been getting on with it ever since. I remember being in Ireland and Joe Lewis turning to me and saying: 'I really like him.'
"Lewis got the players' approval right away which is important because there is a culture here about how we work, how operate and go about our gym work so we can become stronger and quicker. Lewis got that right away."
The midfielder left a distinct impression on his future boss, having caught the eye playing against Dons' youth teams while at Hamilton.
McInnes added: "Although I didn't know Lewis, I thought I did and I thought I knew what I was getting. I watched him playing for Hamilton's youth teams against my youth teams at times at times and he always left a wee impression.
"It was just the way he received the ball, a couple of switches of play, he is just a natural player. The way he runs, heads, tackles and kicks. Everything he does seems natural.
"I liked his narkiness at times as well, that disappointment and rage when his team didn't win. I liked this confidence and strength, as well as all the technical stuff on his left and right foot. I actually remember the first time we watched Fergie in a youth game, and this was a couple of years ago, and it took me a while before I worked out whether he was left or right footed. That probably says a lot about me right enough!"