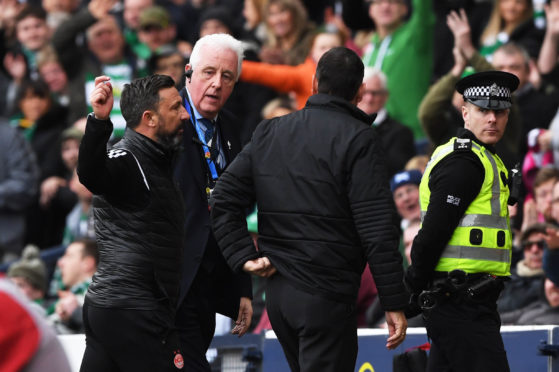 Aberdeen boss Derek McInnes has been handed a one-match ban following his dismissal in the Scottish Cup semi-final with an additional one-game ban suspended until the end of next season.
McInnes was sent to the stands following his reaction to sectarian chanting from the Celtic fans midway through the second half at Hampden Park last month.
The Scottish FA charged him with committing misconduct and McInnes appealed it, while also apologising for having responded to the singing.
However, at a disciplinary hearing back at Hampden Park this afternoon, McInnes was unsuccessful in contesting the charge and will sit out this weekend's game against Celtic.
Dons assistant manager Tony Docherty was also sent to the stands in the Celtic semi-final by referee Craig Thomson. He was also charged with committing misconduct and accepted an offer of a one-match suspension.
McInnes said after the 3-0 defeat that he would accept any punishment he received but hoped those who directed the chant at him would also be dealt with.
He said: "I let it go the first time but I didn't the second time. I shouldn't react, I should be better than that. But it'll be interesting to see if everyone gets punished for it.
"I've heard the song hundreds of times sung at me and I haven't reacted. I think the frustration of the game has played a part in that.
"The fourth official deemed my reaction a red card offence. If it is it is, I'll take my punishment. I've been sent-off as well for being frustrated. And for that I apologise and I'm wrong and I'll take my punishment, as will young Lewis and we'll learn from it together.
"The role of the fourth official sometimes is to give you a warning, a chance to let Craig Thomson know what I reacted to. But it fell on deaf ears. It'll be in the delegate's report, which is refreshing as it's not always in their report, when they hear sectarian singing. It certainly wasn't in the last cup final. But that's not my fight."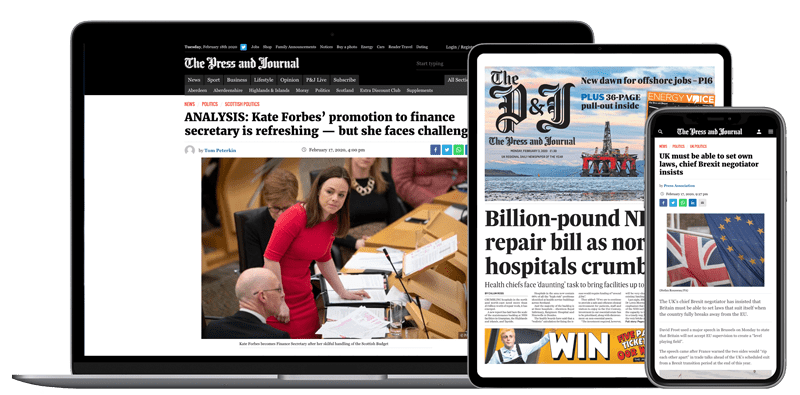 Help support quality local journalism … become a digital subscriber to The Press and Journal
For as little as £5.99 a month you can access all of our content, including Premium articles.
Subscribe