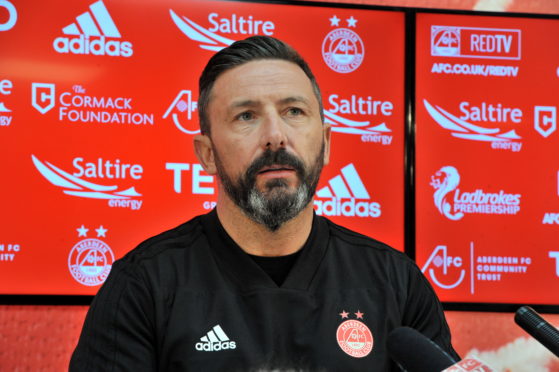 Aberdeen manager Derek McInnes has paid no attention to the ramifications of a Celtic victory at Pittodrie tomorrow.
McInnes has prepared the team for the lunchtime kick-off when the Dons must beat the Hoops at Pittodrie to prevent Neil Lennon's side winning the title for an eighth season in a row.
However, victory against the champions-in-waiting would go a long way to sealing European football for the sixth season in a row for McInnes' side.
He said: "We've got the two Edinburgh teams after Celtic but we're looking at this one as an opportunity to take a step closer to what we want to do. Celtic have clearly got plenty motivation to win this game but they probably would have expected to have won the league by now. They've still got work to do. They will win the league, it's just a matter of when.
"We just need to make sure, for our own sake, that they can win the league elsewhere because it would mean that we've picked up a very important three points. I understand that there will be a lot more focus on it, a lot more scrutiny because of the consequences of if Celtic don't lose, they'll win the league. I can honestly say that it hasn't came into our thinking.
"We said that the split would sort out everything and who ends up where. We started it off with a good win at Kilmarnock. Last week was a disappointing result at Ibrox but it was tough, for various reasons. For us to get what we want, we're going to have to pull out some big results."
Connor McLennan, who tore a hamstring in the 2-0 defeat to Rangers last weekend, has an outside chance of making the final game of the season against Hibernian, while Shay Logan is in contention for tomorrow's game.
McInnes added: "It's a grade one which indicates Connor will be out for two to three weeks. He'll miss this one and Hearts; he might be ready for Hibs. Shinnie would come into that category but he's got a lot to do to be ready for that one.
"Shay is back training, which is great. He managed some days last week and he managed to do some back-to-back days this week.
"In terms of having another player, even on the training pitch and being available, Shay will come back into the squad."