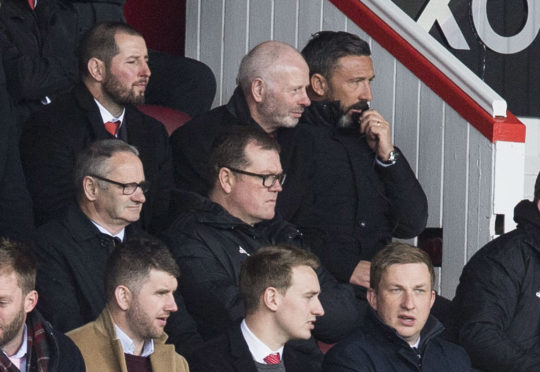 Aberdeen chairman Stewart Milne is convinced Derek McInnes will reject the lure of managing the Scottish national team and stay at Pittodrie.
The Aberdeen manager is on the SFA's shortlist to succeed Alex McLeish as Scotland boss but Milne expects McInnes to remain at the club.
Milne, who is set to open talks with his manager, who has a year remaining on his contract, said: "I think Derek has made it quite clear that this is his club and that he wants to remain part of it.  He's been very loyal to us and been absolutely committed since day one.
"Derek and I speak regularly and are very open and direct with each other and he understands the difference between being a club manager and an international manager.
"He has an aspiration to one day be the Scotland manager but he sees himself as a club manager. Derek is still at the point in his career that he needs the day-to-day involvement he gets as as club manager.
"He is now starting to appreciate what he has delivered for this club over the last six years as he's taken us a long way from there we were. But he also genuinely believes that he can take us on another stage and he has invested a lot of his personal time in helping Aberdeen get where we are and he wants to be here."
The SFA has not approached the Dons for permission to speak to McInnes but Milne is confident he will keep his man should the governing body come calling.
Milne said: "It would be Derek's decision and we've always said that to him since he took on this job. We want to see him absolutely committed to the job but also know he is an ambitious guy.
"He is successful and that makes him a target for others as we've seen in the past but I think what he has shown is that the job here is more than a job to him. He does feel very much part of the club.
"I've no doubt that one day he will move on but it will be a difficult decision for Derek to leave."
When asked if he expects McInnes to be here for the start of the season Milne added: "Yes, and the following season, the next 10 years. When you talk to him on Friday remind him he has made a 10-year commitment."
Milne met the media yesterday as part of the club's presentation of their strategy ahead of their move to Kingsford. The training ground will be operational this autumn while Milne has tentatively planned for the stadium to be in place by 2023.
Milne believes his manager's desire to work at a permanent training base will ensure he remains at the club.
He said: "Derek played a key part in helping us get the planning permission and enabled us to get some of the funding because of their belief that he can keep taking us forward."