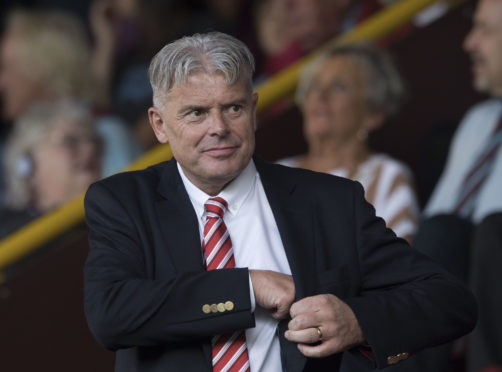 Aberdeen vice-chairman Dave Cormack reckons Derek McInnes sees himself managing in the English Premier League.
McInnes had been tipped as a leading contender for the vacant Scotland job but looks set to affirm his commitment to the Dons.
He is out of contract in the summer and along with Steve Clarke, Scot Gemmill, Jack Ross and David Moyes, had been mentioned as potential contenders to succeed Alex McLeish. It emerged yesterday that Clarke was set to take the role.
Cormack, however, believes his commitment to Aberdeen is true and the former Bristol City boss would prefer to remain in club management.
Cormack said: "His aspirations would be to coach in the English Premier League. But he's totally committed to Aberdeen; we went through a session on recruitment this week and while the bad news is there's eight or nine players leaving, he's excited about getting ahead of that for the new season.
"From the conversation we had with Derek on Wednesday, at some stage he would love to be Scotland manager. But not now. He has a great relationship with the chairman, the club and over the last two years since I've been involved, we've built up a great relationship. He's excited because he's pushed for the new facilities."
Talks have not commenced yet on a new deal for the Dons manager, who signed a new contract along with assistant manager Tony Docherty in 2017 following Rangers' unsuccessful pursuit of the pair.
Cormack added: "Nobody is insecure here. There's a trust between Derek and the board and we'll get to that (contract) in due course. From our perspective we'll probably get together over the next wee while.
"Derek convinced us to put in another £2 million to the training campus, to upgrade one of the first-team pitches to being a hybrid one, like the English Premier League teams use. It will be the same dimensions as the stadium pitch. These hybrid pitches are worth £750,000 and we've put undersoil heating in as well.
"What we see day-to-day with Derek is someone that's totally committed. Over the last six years, we've doubled our turnover principally driven by our performances on the field, which helps us off the field. He's ruled himself out of the Scotland job because he wants to remain in club management.
"It would be unfair of me to get into any detail about his contract but nobody is insecure about getting Derek tied down. You can never say never – football is a crazy world. But Derek is looking forward to getting to Florida with his family next week and then getting back at it."