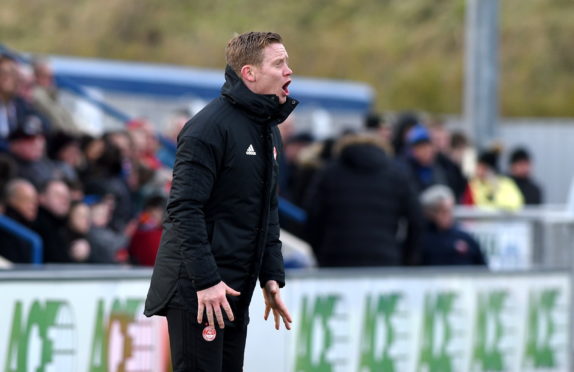 Barry Robson reckons Derek McInnes deserves great credit for putting his faith in the club's young players.
First-team coach Robson, who assists Scott Anderson with the Dons' youth squads, thinks the youngsters have shown they can handle the pressure of being a first-team player.
Connor McLennan and Dean Campbell have been starters for McInnes this season, while Ethan Ross, Frank Ross and Bruce Anderson have all made first-team appearances.
Robson was reluctant to take any plaudits for their development, instead praising McInnes and the club's backroom staff for giving them the platform to succeed.
Robson said: "For me it's more Derek – he's brave to put the young lads in. There's always been a good line of young players here. In the first few years, it was maybe about getting one or two more experienced boys in to get the club back where it should be. But now you can see Derek putting them in and he's constantly asking about them.
"We do a bit in the background but it's more down to Neil Simpson, Gav Levey and Scott Anderson for bringing these boys through. Then it's down to the manager being brave enough to play them. They've shown they can handle it."
Celtic's win over Hearts in Saturday's Scottish Cup final sees Aberdeen a Euriopean spot for the sixth season in a row, despite the Dons missing out on automatic qualification after a fourth-place finish.
Robson added: "We would have liked to have finished third in the league but it was a tough year. We would never use it as an excuse but it was one of the hardest seasons we've had with injuries. But the boys dug in, were disciplined, organised and it was just a wee bit too far in the end. Credit Kilmarnock, they never left us. We'll rebuild again and hopefully get third next year."
Robson and fellow coach Paul Sheerin were team-mates in yesterday's Cash for Kids charity game at Cove's Balmoral Stadium, which also featured ex-Dons Gary Dempsey, Derek and Darren Young, Fraser Fyvie, Richie Byrne and Hugh Robertson.
He said: "The good thing is I enjoy it. I enjoy seeing the boys I've played with in the past. We have a head-tennis compeitition going on all season – Paul (Sheerin) and Derek (McInnes) against me and Tony (Docherty). Let's just say it gets heated, with four old winners. We can argue for 10 minutes over a point.
"I make sure I do three or four 10ks a week. I don't do so much of the football side of things as it hurts my hip."