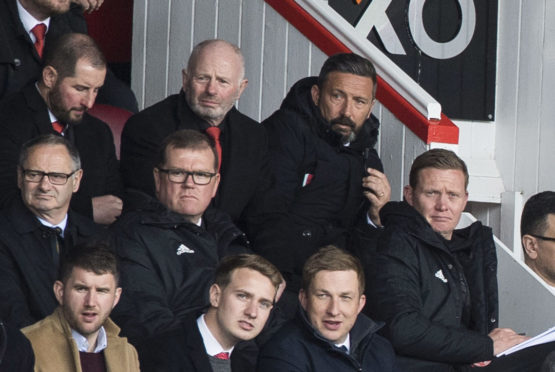 Aberdeen chairman Stewart Milne is convinced Derek McInnes has not hit the glass ceiling of what he can achieve at Pittodrie.
The Dons boss is in the final season of his contract with the club but as he begins his seventh full campaign with the side, his chairman is adamant McInnes can take the club to greater heights.
The Aberdeen manager has led his team to League Cup glory in 2014, three further cup finals and qualified for Europe six years in a row, but Milne says there is still more that can be done and believes leading the club to the group stages of the Europa League this summer is the immediate aim.
He said: "Before Derek took the job he was convinced he could deliver success for Aberdeen and he has done that.
"There are some people that think he has hit a glass ceiling with this club and can't take us any further.
"That's not the case as Derek is convinced we have given ourselves a fantastic platform over his six years in charge and he wants to kick on from there.
"He still has the aspiration to take the team into the group stages of European football as that is one area where we haven't quite achieved."
The Dons finished fourth in the league this season, their lowest finish under McInnes, but Milne expects his club to respond strongly in the next campaign and insists the manager will be given the support to build another competitive team with yet another summer rebuild job.
He said: "In the last six years under Derek we've eliminated our debt, doubled our turnover and there are other things which we have put in place.
"If we look back over the last six years, apart from Celtic, I'm not sure any other club in Scottish football has made the progress we have and delivered the success consistently on the park like we have.
"It's easy to think we've cracked it, we're there and everything is going to be great. We've all been in the game long enough to realise how quickly things can change and that's what we have to guard against here.
"We've given ourselves a fantastic platform but let's not sit back and pat ourselves on the back. We still have a huge amount of work to do in the next three to five years to get this club up to where we want.
"We're well placed with a fantastic on the park team and fantastic off the park team, and all will play a real part in trying to move the club forward."