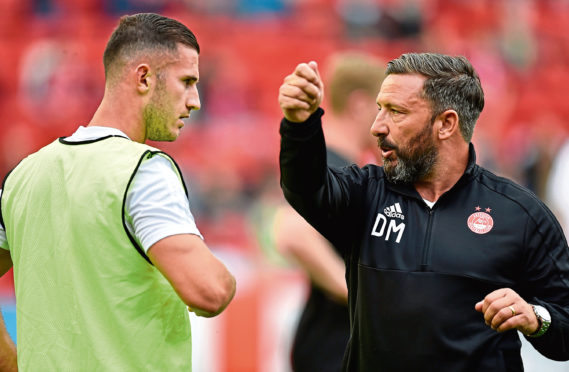 Aberdeen manager Derek McInnes is facing an uphill task in his attempt to bring Dominic Ball back to Pittodrie.
The 23-year-old defender has spent the last two seasons on loan at the Dons from Rotherham United.
Ball is out of contract and the Dons have offered the Englishman a permanent deal.
A report yesterday claimed Ball had turned down the offer but it is understood a deal is still on the table. The defender has, however, told McInnes his preference is a return to English football with Ipswich Town and Doncaster Rovers keen on the free agent.
Meanwhile, Joe Shaughnessy says he holds nothing against Aberdeen for withdrawing a pre-contract offer.
The Irish defender is also out of contract and was linked with a return to Pittodrie.
Shaughnessy said: "We couldn't agree terms and I was in no rush. That's the way football goes at times.
"I have nothing against anyone at Aberdeen.
"There are no hard feelings on my part and I enjoyed the six seasons I had there before moving to Perth.
"Like many players I'm just seeing what is out there. I'm in no rush and there's no panic wondering what is going to happen.
"I definitely haven't ruled out signing on again for St Johnstone.
"I have had the four best years of my career so far with the club.
"The manager had a lot of faith in me and I'd like to think I repaid that with the way I played and being around the club as captain."
Shaughnessy, however, is putting his future on hold to study for an Open University maths exam on Friday. He added: "That has taken up a lot of my time. Once I get that out of the way, hopefully I'll be closer to getting the football side sorted out.
"I haven't got anything fixed up at the minute. I have a few irons in the fire and I haven't closed the door on St Johnstone.
"The negotiations didn't work out before. Everything just stalled and there was no movement.
"As it is, I haven't signed for anyone else and I'm letting things play out.
"I have been in Scotland for 10 years and I'm coming up to 27.
"So, as I told the manager (Tommy Wright) and the chairman (Steve Brown), the next contract is an important one for me at this stage of my career.
"I have to make sure it is the right deal and the right place for me."