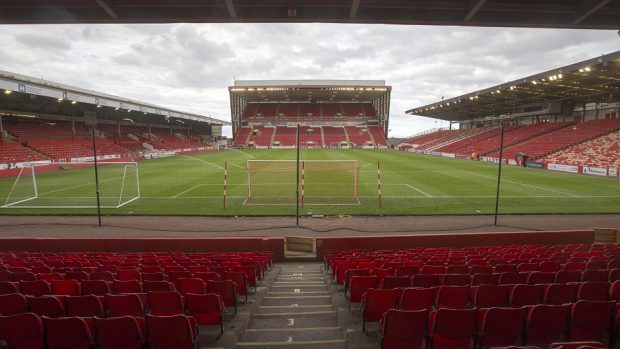 Aberdeen have announced they will erect a segregation banner at Pittodrie which will reduce the ticket allocation for away supporters.
The Dons have moved to implement more safety measures following concern at the increase in the number of incidents of unacceptable conduct within Scottish football last season which led to a review between the club, Police Scotland and the Sports Ground Advisory Working Group.
The previous capacity for away supporters was 2,000.
A statement from the club read: "The South Stand segregation area currently used in lower category games will now be in place during all categories of games. A total of 1,662 tickets will subsequently be available in the away section.
"A segregation banner will be utilised in the middle of section R and will be stewarded and policed accordingly. This ensures that at all games there is an enhanced area between the two sets of supporters.
"While this move will inevitably result in a financial penalty for the club as fewer seats will be available to visiting supporters, AFC believes the safety of all fans is absolutely paramount and the overriding factor in this instance.
"The club has also invested significantly in new state-of-the-art CCTV that has the technology to identify individuals who commit acts of unacceptable conduct or which could be perceived as being unacceptable conduct.
"Unacceptable conduct includes the singing of songs that could be construed as being of an offensive or inflammatory nature and which have no place in Scottish football.
"The ultimate aim is to enhance the wider matchday experience and ensure that supporters of all ages enjoy their time at Pittodrie."
The club has urged any supporters who witness instances of unacceptable conduct to contact the 'Tackle Textline' on 07764 261302 where their statements will be taken in the strictest confidence.