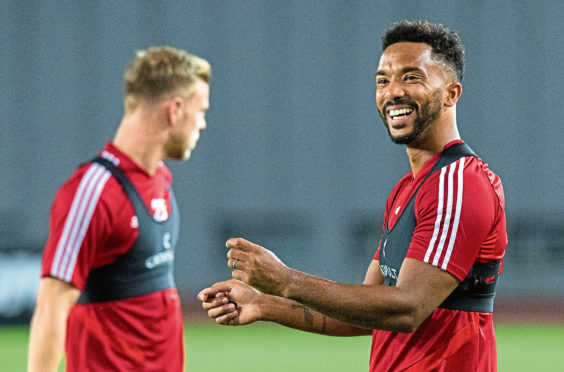 Right-back Shay Logan has played all 26 European games under Derek McInnes and admits it would be a regret if he never experiences group stage action.
Logan is set to make a 27th straight Euro appearance tonight when facing FC Chikhura Sachkhere in Tbilisi, the Georgian capital.
This is the sixth successive season in Europe for Logan and McInnes's Reds. They have never progressed beyond the third qualifying round stage and Logan aims to rectify that this season.
The defender said: "Would it be a regret if we didn't make the groups one day? Yes, of course it would, because it's one of the things we want to accomplish.
"We have gone close to getting through another round in the past – the likes of the Maribor game springs to mind where the ref had a shocker – but we just haven't been able to get it done.
"A lot of it is the luck of the draw; last season we got Burnley in the second round and went out.
"So it's difficult. You need a lot to go your way – but hopefully we can get there this season.
"You sometimes look at the groups and think 'we would have beaten them' but you never know and you can't take it for granted." At the end of last season the right back underlined his long-term commitment to the club by signing a one-year contract extension.
Logan was already under contract until the end of the 2019-20 season but opted to commit his future to the club until 2021.
Having arrived from Brentford in 2014 Logan has been a regular starter and was a League Cup winner with the Dons in his first campaign at the club.
He said: "I didn't know I'd played every European game under the gaffer but someone told me the other day.
"I love these occasions; the competition is great fun and it's great to travel the world playing different teams, seeing different places.
"It's also good to test yourself against different players and different styles of football.
"We have had some near-misses in the past and you look back thinking things could have turned out differently."
Aberdeen are favourites for tonight's clash that will be played in front of fewer than 1,000 fans at a 54,500 capacity stadium.
Chikhura had to move the tie from their own 2,000 capacity stadium because it is not fit to host Euro ties.
Regardless of Aberdeen's status as favourites Logan insists cautionary tales of teams who took their eye off the ball are easy to find.
He said: "Look at Kilmarnock last week against Connah's Quay. Nobody expected that result and it shows how it can happen.
"So you can't underestimate anyone in this competition and you can't look too far ahead."
Dons boss McInnes had the Georgians' two games against Fola Esch in the previous round scouted.
Logan said: "We have been doing bits and pieces on them, the gaffer has been telling us about them and there are video clips to watch. We have had stuff up in the changing room over the last week or so, so the lads have been taking it all in.
"They obviously had a good season last year to be in the competition so they will have good players. A lot of the time you go into these games not really knowing much about them, but the manager prepares really well with sending scouts and getting footage.
"The first 10 or 15 minutes it's usually about sussing each other out then it's down to the game. We have the experience of these occasions now and that's important. "
The temperature is set to be around 30C tonight despite the later kick-off but Logan does not anticipate it being a problem.
The Dons have experienced this before and emerged with a positive result.
He said: "The conditions will also be a factor but we can handle it, I think we will have a water break. But managing that is something we have done in the past, we have been to hot places and won games before.
"These factors are just things you have to deal with and they will be more acclimatised.
"But that's the challenge of playing in Europe. "
Aberdeen touched down in Tbilisi in the early afternoon on the day before the game after a six hour flight.
Logan said: "The plane we came over on was very good; there was enough room to lie down if you wanted to.
"When you have to come to these places and travel that distance you have to be comfortable.
"So the club did well to get us a good plane and we will have no excuses.
"Georgia is a much nicer place than I expected, so we are looking forward to the game now – even if there won't be many people at the game.
"I heard that they've decided it's free to get in and that's a good idea because you want as many fans there as possible.
"I would imagine it won't be a big crowd, but if it gets in a few more than it would have been, then fair enough."