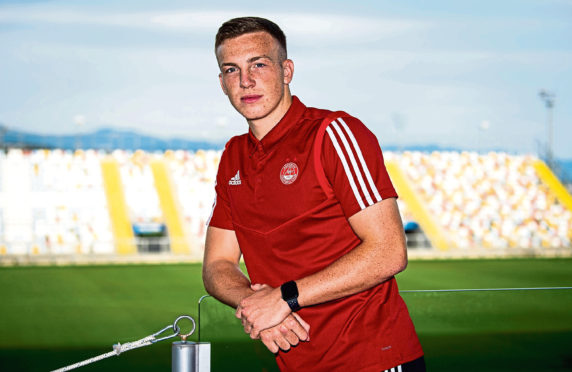 From a teenager crashing an overhead kick into the Burnley net, Lewis Ferguson has made himself into a household name.
The Dons midfielder has been near-undroppable since his low-key arrival from Hamilton Accies at the start of last season but he has quickly made himself vital to the Aberdeen cause.
Tonight marks his 50th appearance for the Reds – if selected – against Rijeka, in the competition where he made his mark just over a year ago.
Ferguson said: "I never realised – it's come as a bit of a surprise. I don't know why I haven't really thought about it. Hopefully we can get a positive result against Rijeka.
"You can never really think that you're going to go straight into a side and set your mark because you don't know what can happen in football.
"Obviously that was my aim, to come up and go straight into the team and work as hard as possible and show the staff and boys what I was capable of.
"I performed well and since then I've never really looked back. I've always looked forward and took every game as it comes and just try to perform to the best of my ability.
"Playing in Europe is different class. I never thought for a minute, a couple of years ago when I was at Hamilton, that I would be playing in Europe within a few years.
"That's surprised me a bit. I just take everything in my stride and take every game as it comes.
"I've been trying to perform well for the team. If the goals and the assists come then that's just a bonus.
"You just go out there to perform and work as hard as you can for the team.
"It's been difficult over the last few weeks because we've been playing Thursday then Sunday so it's tough on the legs.
"We have been playing well and hopefully we can take a positive result back home."
Ferguson's football heritage is well known. His father, Derek, played for Rangers and Hearts, while his uncle Barry captained Rangers as well as having spells in England with Blackburn Rovers, Birmingham City and Blackpool.
Derek was at Pittodrie on Sunday afternoon for the 3-2 win over Hearts and got caught up in the celebrations in the Richard Donald Stand as Dons fans delighted in Ryan Hedges's 85th-minute winner.
Ferguson added: "I never saw him. I just ran over and jumped in and celebrated. I haven't spoken to him about it. He was sitting down in the front seats so he must have just got caught up in it. That's just part of the game."
Both of the elder Fergusons represented the full Scottish national side and it is an honour surely within Lewis's grasp.
He has three caps for the under-21 side at present and still has plenty of time to make the next step.
He said: "It would be massive, it would be an honour to play for Scotland or even to get called up.
"I don't really think too much of it.
"I just go out and try to perform for Aberdeen. If and when that does come, I'll take it.
"Obviously it would be a very proud moment but I don't think too much about it."
Aberdeen have returned to the city where they achieved one of their most famous recent results in Europe, a 3-0 win over Rijeka in 2015.
However, Ferguson appreciates it is a different challenge four years down the line.
Ferguson said: "I've heard the boys speak about Rijeka. Andy scored but I never really knew too much about it.
"Shay Logan and Andy Considine have said they're a good side. In this competition you're never going to get an easy game.
"Does it feel like we're a proper European club? Yeah it does. Last year we only got a wee taste of it because it was just the one tie but when you're playing every week it starts to feel real.
"It's something that I always wanted to do; to play in Europe and test yourself in places like this."