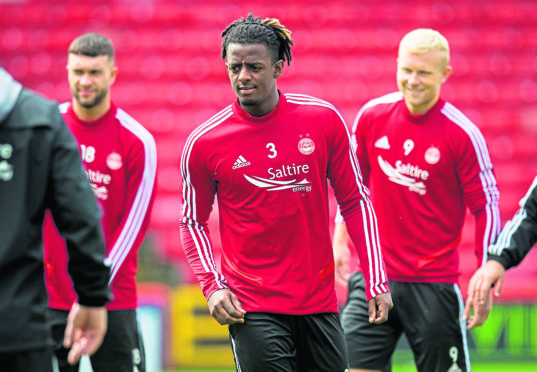 Greg Leigh said Aberdeen can take heart from Liverpool's Champions League comeback to overcome Europa League opponents Rijeka.
The Dons are 2-0 down from the first leg in Croatia and need a near-perfect performance at Pittodrie on Thursday to go go through to the play-off round for the first time.
Liverpool famously overturned a 3-0 deficit in the semi-finals of the Champions League earlier this year, winning 4-0 at Anfield in unforgettable circumstances on their way to a sixth triumph in the competition.
As benchmarks for their own European aspirations go, Aberdeen could do worse than take heed of another team in red.
Leigh said: "People wrote off Liverpool against Barcelona. It's a strong position to know what you've got to do going into the game. A 1-0, 2-0 scoreline is difficult – do you go for it or sit off? We know we need to score goals – at least two – and not concede. That's a gameplan we can go with. It's a worry but we know what we've got to do.
"Everyone who plays in these big competitions comes up against this at some point. We're a strong group; Sunday annoying but it's more annoying than a real worry. It's something we address as early as possible and kick on for Thursday.
"We can't afford a slow start – it's something the manager has addressed after the game and the players need to be aware. We know what we have to do and we have to do it as early as possible to give us the best chance.
"Going away to Rijeka, we didn't show them what we're about. There were things where we're going in not to concede, which would have been ideal, but we have to show them what we're about at Pittodrie. We've done it before and we need to do it again."
The Dons have been guilty of being slow out of the traps in games against Rijeka and St Mirren, which Leigh knows they can ill-afford to do on Thursday if they are going to stage a remarkable comeback.
He added: "It's exactly what you want to be doing. You want to be playing in Europe, playing in as many competitions as possible. If you weren't you'd be training just as hard. It's what we train for – we're in the club to work hard and it's something we're used to.
"We need to be able to play without certain players (Cosgrove). With people coming into the team who hadn't had games, it maybe showed they were a bit rusty. It's something they can improve on and we know they're good players."