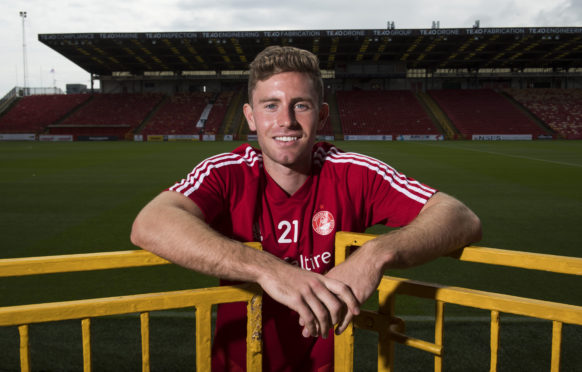 Jon Gallagher has definitely taken the scenic route to a career in professional football.
The son of a Guinness executive – Paul Gallagher worked for the company for 25 years – the Irishman has travelled all across the globe in pursuit of his art.
Europe, the Caribbean, Asia and the United States have all been home for Gallagher, who joined Aberdeen on loan from Atlanta United in the summer. His final move to America at the age of 17 took him into the ranks of US college sport and the illustrious Notre Dame college. Their nickname is the Fighting Irish, a nice coincidence given Gallagher's roots in Dundalk.
Trips to Finland, Georgia and Croatia with Aberdeen so far in the Europa League do not faze a man used to being a globe-trotter.
He said: "I moved to America at 17. I've lived in five different countries, moving all the world with my dad's job. I've been in Jamaica, Singapore, at boarding school in England for a bit, America …
"So these trips around Europe aren't too bad for me. Although, in fairness, I'd never been to Finland or Croatia! My dad worked with Guinness and just switched companies after 25 years. I don't really know what his exact job is!
"When I was eight we moved to Jamaica. Then, when I was ten, America. At 13 it was Singapore, 15 England and then back to America at 17. I've had a very unique path to the professional game. It was quite challenging, at times, to find the best standard for me.
"When I was in Singapore, I was 15 years old and playing in a men's league. I realised that, if I wanted to move on, I would have to move back to England and be seen.
"It didn't work out in England, unfortunately. But, in a good way, it's brought me to where I am now. I've definitely taken a path less travelled."
His path so far has taken him across the paths of two former Dons in Bobby Clark and Stephen Glass. Clark was his coach at Notre Dame and Glass picked up the baton when Gallagher was drafted by Atlanta last year and farmed out to their second team. Both were useful advisors when the move to Aberdeen became likely.
The vagaries of the college system mean players come into professional sport later than they would in Europe. The majority of players are drafted at the age of 22 or 23, once they have completed their studies, although some of the more talented prospects declare their eligibility earlier.
"I played some big games in college; the conference I was in was pretty good and would usually send a lot of players in the MLS. Even with the development squad last year, I got a couple of decent games in front of big crowds – 30,000 at Cincinnati was one I remember, probably my biggest game.
"I honestly don't feel I was ready at 17, 18. A lot of clubs I went on trial with told me I was too small – and I was. Obviously the three years in college gave me time to develop as a person and a player, mature a little bit. Bobby Clark was huge in that for me."
Aberdeen face the prospect of overturning a 2-0 deficit against Rijeka tonight at Pittodrie, to keep their European hopes alive. They have lost the first leg in Europe only twice under Derek McInnes – against Real Sociedad and Kairat – and they must break new ground to reach the play-off round.
Gallagher added: "The prospect of playing in Europe was a huge attraction. When Atlanta touched on the idea of Europa League qualification, it was a big swing in my decision making process.
"It has lived up to expectations, definitely. As tough and as interesting as it can be. My first game here was the Europa League match against the Finnish team – and that was everything I'd been hoping for."