Aberdeen vice-chairman Dave Cormack thrilled with lasting legacy of Cormack Park
It will bear his name as a lasting reminder of his investment in the club but Cormack Park means so much more to Aberdeen vice-chairman Dave Cormack.
The Atlanta-based businessman was given the honour of having the club's near £13 million training ground named after him and while naturally thrilled with the honour, the former chief executive is most proud that his family will have lasting legacy in the Granite City.
Cormack said: "When I am no longer above the daisies generations of our family can remember Aberdeen is home. That was important to (my wife) Fiona and myself. It's a very proud day but we're only a small part of it.
"Many people, led by the chairman, have brought us to this point and it's fantastic to be involved."
Former Dons boss Sir Alex Ferguson officially cut the ribbon to open the club's new training home at Kingsford yesterday as phase 1 of the ambitious training ground and stadium was completed.
The budget of £10m was exceeded in delivering the first phase but Cormack insists the investment will be money well spent.
He said: "It is a quality environment. We have spent closer to £13m than the £10m budgeted when we started. We've invested in a hybrid pitch, which the English Premier League teams use, at a cost of £750,000 on its own but it will be really durable in the winter."
The Cormack Foundation regularly supports charitable projects and having given £1m to the AFC Community Trust Cormack is delighted the trust will also have a home at the new facility.
He said: "We want to be part of the fabric of the community and the community trust has done a fabulous job. We are delighted it will also be for use by the community."
Phase 2 – the stadium – is due for completion in 2023 and chairman Stewart Milne, while proud to see phase 1 reach fruition, knows major challenges still lie ahead.
He said: "We have to be realistic, it has been a massive challenge to raise the £12m-plus to realise phase one.
"So it's going to be an even bigger challenge to get the £45m or so for the new stadium, especially in the current economic climate.
"A big part of it will be getting as much value as we can out of Pittodrie and that will need the property market to be a lot stronger.
"At this point in time I think a realistic target is summer 2023, which sounds a long way off but is just round the corner.
"A lot of work would need to be done to get that up and running.  The focus for the next period is putting the training ground to work.
"I will enjoy this moment, the club needs to take a deep breath after delivering this and we will see how we move forward."
The longer term and more challenging task for Milne and his board will be raising the funds for the stadium but Milne was happy to take a momentary break – even if it is only for a day.
He said: "I can honestly say we never lost belief but I didn't think it would take us 20 years to get here.
"There were times it looked pretty bleak, the planning process has been a challenge and this is the third attempt at it.
"So seeing it all come to fruition is a very proud moment, for the club and for me personally.
"I don't see it as my legacy because so many people have worked hard on this and have committed big chunks of their lives to deliver this facility."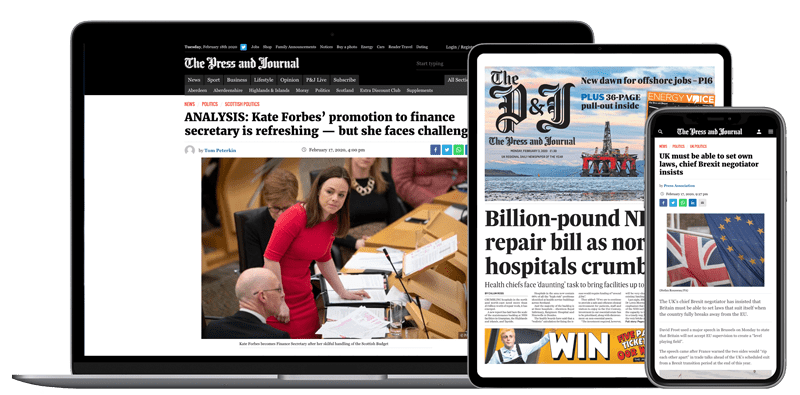 Help support quality local journalism … become a digital subscriber to The Press and Journal
For as little as £5.99 a month you can access all of our content, including Premium articles.
Subscribe