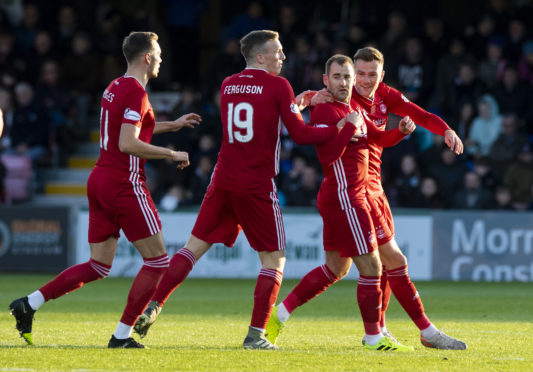 Briefly, this match felt like basketball – attacks by one team immediately followed by the other, with little pause for calm in between.
Niall McGinn's rapid response to County's early spot kick was key because it allowed the game to draw breath. It could not have gone on in similar fashion for long, but equally the Dons would not have wanted to get stuck in a routine of knocking on a bolted door, as they did at St Mirren.
By pegging County back seemingly before they'd realised they were in front, Aberdeen received a significant confidence boost and were able to follow exactly the pattern from which they drew their win at Motherwell.
Quickly lifted from the potentially disastrous concession of an early penalty, the Reds seized control and were well worth the three goals they drilled into the hosts' net.
Quick-thinking McGinn was in at the start of Aberdeen's comeback and he was there at its end too.
Mere yards away from what looked a clear trip on Sam Cosgrove, McGinn by reflex joined in the prone striker's penalty cry, but cut it short when he noticed from the corner of his eye that Liam Fontaine had taken a heavy touch exiting his box.
Andy Considine still had much to do, but it was unselfish recovery work by a player who receives too little credit.
Conceding penalties within the first five minutes is obviously not a sustainable strategy in the long term, but Aberdeen's two highest-scoring away wins since January have both come after such a dreadful start.
It shows that – at least when the more fancied side – they still have plenty of character and belief.