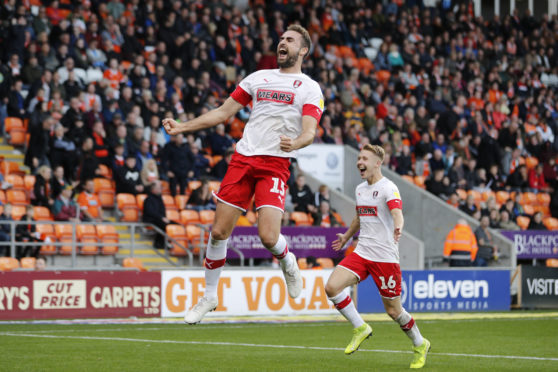 "I think nothing of jumping in the car on a Saturday morning and driving 380 miles to watch my son play football. I've never thought 'what are you doing?'"
Michael Robertson feels he is living the dream. As father to Clark, the former Aberdeen defender now at Rotherham, he has racked up more than 100,000 miles in watching him play over the last four years.
Clark left Aberdeen in 2015 for England, acknowledging his time with the Dons had reached its natural end. Blackpool took a chance on him and gave him the best three years of his career, culminating with a play-off final win at Wembley.
On the road or in the air, on pretty much every weekend, is Michael, who is managing director of the family's seafood business, Joseph Robertson Ltd. He has followed Clark's career from his youth playing at Culter Boys Club, through to making his first-team debut at Aberdeen and representing his country at under-21 level. There was no reason for him to stop just because Clark had left home.
Michael said: "I have a business to run and my kids are grown up. This is something I really enjoy doing and it (football) is a short career. It's over 10 years since he signed for Aberdeen and it seems like yesterday. I have covered 60 grounds in England, going as far south as Exeter and Plymouth.
"I drive to Rotherham; it's a 380-mile trip, a seven-hour drive. But if it's further south then I'll fly to London or Birmingham and pick up a car or get the train. For the games I've seen, I've done something like 108,000 miles. It's been a labour of love and thankfully my wife is pretty forgiving.
"It's been a fantastic journey and it culminated with getting into the Championship last season, going to places like West Brom, Derby and Leeds, what I'd call Premier League grounds.
"Going through the age groups and the first fledgling days at Aberdeen, you're always hoping it's possible he goes through and plays first-team football. As Aberdonians, it was a very proud moment seeing him make his debut."
His travels have also taken him across the continent, to Slovakia, Estonia and Georgia when Clark has been on duty for Scotland's under-19s and under-21s.
Clark and his brother Ryan, who plays Highland League football in Keith, grew up football-daft in the Milltimber area of Aberdeen. Many evenings were spent waiting for Michael to come home so a ball could be taken outside.
"Ever since I moved down to England, he's been to most grounds in League 1 and League 2," said Clark. "I don't think there's many he's missed and he loves coming to watch. I've never told him to come all the time; it's his own choice and I do appreciate him supporting me every week. I have got a son now and I would probably do the same for him.
"He probably does come down here more often but he does split it up with Ryan as much as he can. To be fair I don't think he minds the journeys now, I think he's used to it.
"He always says he's living the dream through me, as that's what he wanted to do. It's something he never got the chance to do professionally."
The one game Michael chose not to attend, the October 12 game between Rotherham and Clark's previous club Blackpool, fate dealt him an unlucky blow. Clark was not due to play, to allow his osteomyelitis pubis to settle, but was named on the bench. Clark told his father not to attend.
But when the Millers' regular left-back Joe Mattock pulled up in the warm-up, manager Paul Warne turned to Robertson. He set up Michael Smith's opening goal and then delivered what turned out to be the winner with three minutes to go.
Michael said: "I decided not to go and instead went to watch my other son, Ryan, play at Inverurie Locos. I had the commentary on and heard three minutes into the game them mention Clark's name. I nearly fell off my seat."
There is somewhat of an imbalance, Michael admits, as to who out of Clark and Ryan he gets to watch more.
"Ryan understands. The Highland League starts a week or two earlier and there are midweek games as well. The balance probably isn't quite right but he says 'you've got to go to that one'. He encourages me.
"There's always an opportunity, so I never have a Saturday without football. I've not been to Fort William yet but it's on the agenda."
Clark's career in Aberdeen did not pan out as hoped. He still made more than 60 appearances for the club but suffered two serious knee injuries and a thigh muscle tear – picked up on Scotland under-21 duty – and his chance to make an impact under Derek McInnes was limited. The signing of Graeme Shinnie in 2015 signalled his time was up.
"I had quite a few knee operations at Aberdeen and that probably didn't help my progress. But another reason for me leaving was because I was playing left-back and I didn't think that was my natural position. When Blackpool came in for me and gave me the chance to play centre-back, I felt it was something I had to take at the time.
"They agreed to sign Graeme Shinnie on a pre-contract in the January and I knew he was coming in as first choice, which knocked me down the pecking order. I knew myself I wasn't a left back and I took the decision to leave."
As a youngster, Clark had come through the age groups with close friend Mitch Megginson, the Cove Rangers captain, with whom he progressed from Culter Boys Club to playing for the Aberdeen first team. Along with Megginson's father Mike, Michael took the school team with their boys in the side.
"My brother, myself and him were mates all through school and played for the same boys club at Culter," said Clark. "Myself and Mitch got signed for Aberdeen and made it right through to play in the first team together.
"I haven't seen him as much but we still speak a lot and it's good to see him doing well. The chances of two boys from the same school making it through the system to play for Aberdeen were pretty slim but we managed it."
The north of England has become a welcome new home for the 26-year-old and his partner Karla, who have a three-year-old son Cole and daughter Mimi, who is six months; "Cole is always on at me to play football, just like I was with my dad."
Both father and son hope there is a senior Scotland cap in his future and getting Rotherham back to the Championship would give the centre-back the best chance of international honours. As long as he puts in the hard work to do so, Michael will keep putting in the miles.
"I don't think he would be averse to ending his career at Aberdeen but that will have to be determined. He's a family man and well-grounded. At 26, his best years are still ahead of him."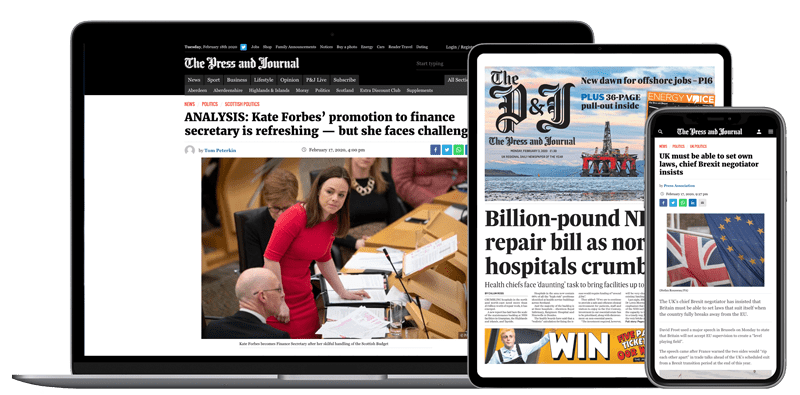 Help support quality local journalism … become a digital subscriber to The Press and Journal
For as little as £5.99 a month you can access all of our content, including Premium articles.
Subscribe