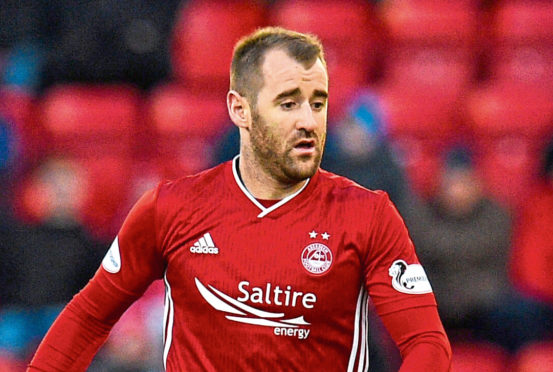 Niall McGinn will always be Aberdeen's Mr Reliable as far as Craig Brown is concerned.
After all, if you can mark Cristiano Ronaldo out of a game then you must be doing something right.
Northern Ireland international McGinn was brought to Pittodrie by former Dons boss Brown in 2012 and, 300 games and 82 goals later, it is clear as transfers go that McGinn's has been a hugely profitable one.
Brown certainly believes so.
He said: "No praise is high enough for Niall because he's a proper player wherever he plays.
"We played him through the middle and he got 21 goals for us in his first season. He's done very well playing in the wide position, supplying Adam Rooney and now big Sam Cosgrove. He gets assists as well as goals.
"I think McGinn's always one you could rely on. You could always get a game out him and he never wastes a pass.
"He's accurate with his distribution if you keep the ball.
"Playing 300 games is an achievement. He's a good pro. The combination of him and Jonny Hayes, we got them both for nothing. They were Derek's players that won the League Cup.
"The best story I've heard about him is from Michael O'Neill for Northern Ireland against Portugal. Michael told me that he put him man-for-man with Ronaldo. Seriously.
"He asked him to play in that wide area when Ronaldo was coming down the right hand side.
"O'Neill told him to match every run that Ronaldo makes and to make sure that he doesn't play.
"That's what Niall is very good at: discipline. He can do the job defensively and he can do it offensively.
"I watched that game on telly. He was brilliant. Ronaldo never got a kick at the ball and Niall scored in a -1-1 draw at Windsor Park. That's the McGinn I know. He did the same for us."
It could all have turned out so differently, however, with McGinn's move to Pittodrie happening purely by chance.
Former Dons director Brown, who stepped down from the board on Monday but who will remain part of the club as an ambassador, says a chance encounter set the ball in motion seven years ago.
He said: "I was going with Niall's agent to see another player called Danny North.
"In the car with him was Niall. I'd seen him play for Celtic in the reserves. I asked him what he was doing and he said he was on loan at Brentford. I told him he was too good for that.
I said 'Do you fancy it?' I didn't think he would move from Celtic to Aberdeen but he was up for it. We got him and I told him we were desperate for him. I needed him as a striker.
"We had Peter Pawlett on one side and wee Ryan Fraser was coming through the other. I wanted Niall as a striker.
"The personal contact was good. That was a lucky one."