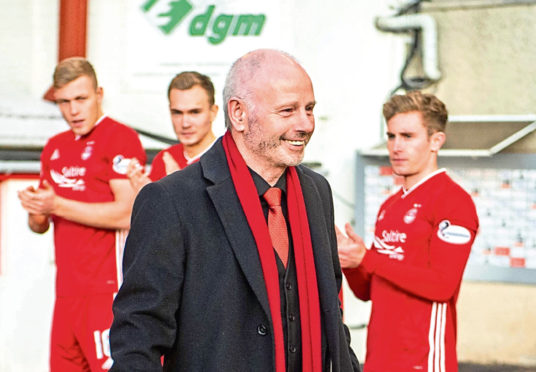 Stewart Milne made some difficult decisions when he was chairman of Aberdeen.
He also made some mistakes.
But as he hands over control of the club to Dave Cormack, Milne is convinced that every decision he made, good or bad, was with the best interests of the club in mind.
Milne presided over a challenging period. In his 21 years as chairman the Dons flirted with relegation and endured financial strain and some depressing days.
But under Milne's watch the club has restored some pride, respectability, regular European football and brought silverware back to the Granite City. It has been a mixed bag for sure, but if Milne has one thing in common with the Dons fans it is that his support for the club has never wavered.
He said: "One of the things I can stand down and say is that we've made mistakes over the last two decades. If anyone is honest with themselves, we all do it. But the one thing I can say one hundred percent is that I never made one decision that wasn't in the interests of the football club.
"Often I knew it would be a hard decision to sell to the supporters and knew it would put additional burden on me and the board.
"In the medium to long run, it has paid dividends because if we'd made some of the popular decisions we wouldn't be sitting here where we are now.
"That is life. If you want something at the end you have to be prepared to go through the pain barrier to get there.
"I think this club is very fortunate that we've had so many people willing to go through that pain barrier with me.
"That's the bit that is often difficult to convey to the fans. It's never been a one-man band. We have got where we are because there is a real team which runs this club."
Milne was perhaps unfortunate to take over from Ian Donald in 1998 at the beginning of the most challenging period financially.
Rangers and Celtic were investing heavily and pulling further away from the rest of Scottish football.
Aberdeen, along with every other club, tried to invest all they had – and in some cases more than they could afford – in an attempt to keep up.
But while others paid a heavy price, including Rangers, Milne is justifiably proud of the fact his club managed to go the distance, endure and come out stronger.
He said: "It has been an interesting period because, without doubt, this has been the most challenging period for Scottish football.
"We have gone through a real rollercoaster and it has been a horrendous experience for a lot of the clubs involved in it.
"We had the 2008 financial crash. The whole world suffered in a way it hadn't since the 1930s and when that happened Scottish football was probably at its most vulnerable point.
"So many clubs couldn't cope with that on top of already struggling."
Milne can go with his head held high. Perhaps most importantly – and surprisingly given the tetchy nature of some of the annual meetings over which he has presided – he has been able to step down knowing the shareholders are appreciative of his efforts.
The standing ovation and warm round of applause during Monday's meeting was a surprise but one that Milne really appreciated.
He said: "I thought I had everything under control the other night but the emotions kicked in.
"Getting a standing ovation was nice – you can read whatever you want into that. Maybe people were thinking 'thank goodness he's going'.
"Seriously, though, it was nice and I appreciated it."